Review: Titan CVU 4500 roll seed roll
---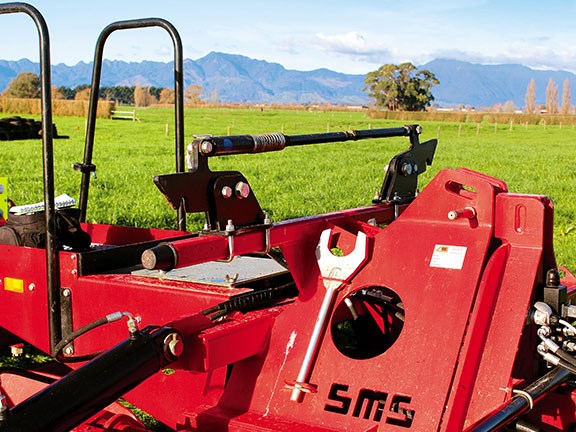 The transport locking system and TitanLoc axle spanner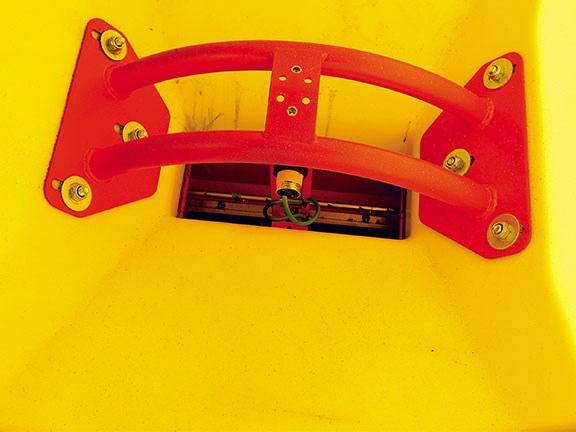 The Titan CVU 4500's low-seed sensor can be seen in the base of hopper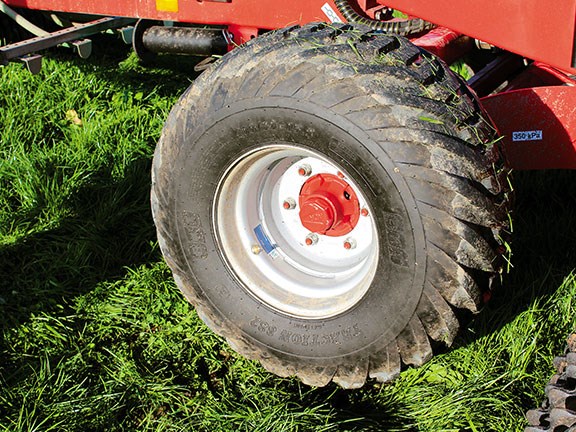 There are large 400/60-15 durogrip flotation wheels on both rollers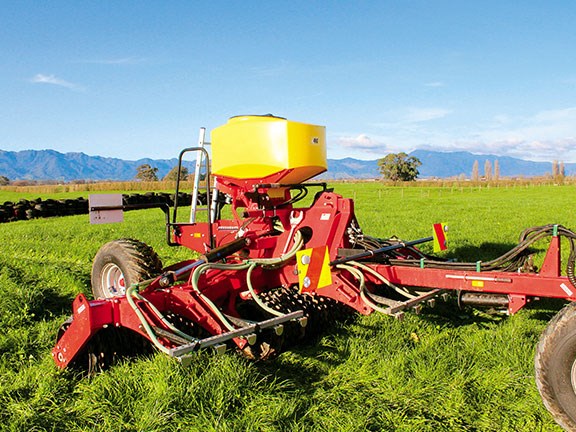 The Titan CVU 4500 shows what can be done when a company goes the extra mile for a customer

4Ag's new 4.5m Titan CVU 4500 roll seed roll is an excellent example of adding a touch of ingenuity.
Hydraulic steering drawbars to get through tight gateways


Two-point linkage hitch on front and rear machines


Stable transport position that keeps the machine under 3m

Nine months ago, dairy farmer and contractor Andrew Storey approached New Zealand company 4AG with what seemed a fairly straightforward request – he wanted a roll seed roll unit to suit the dairy farms he operates on.
His needs seemed simple enough – he wanted to be able to drive down 5m-wide races and be able to turn into paddocks through a 12-foot gateway. However, anyone who has used a double roller will know they can be somewhat tricky to get through gateways, let alone 12-foot gateways.
The team at 4AG tested their existing rollers and quickly realised they were going to need some clever engineering to meet Storey's needs. After discussions with the factory in Europe where the rollers are built, they settled on hydraulic steering drawbars as the simplest solution.
Fortunately, the factory team were keen to help and between their engineers, 4AG's ideas, and the client's input, the perfect machine was created.
Construction
At the front of the machine, rather than hitching to the drawbar, both rollers use a two-point linkage which incorporates pivot points for 3D movement in all directions.
The rear roller uses the same two-point linkage setup as the front, and there are simple, quick-link hook ends at the back of the front roller that this hitches up to.
This setup gives ample movement in all directions and also means that either the front or rear units can be easily separated and used on their own, adding to the machine's versatility.
To achieve a 4.5m working width, there are wing sections either side of the centre that are hydraulically folded vertically with hefty rams, giving a transport width just under 3m.
The design of the wings with pivot points closer to the centre of the machine not only ensures a narrow transport width, it also makes sure the weight is carried as close to the centre of the machine as possible for stability.
When the wings are folded, a mechanical lock (which automatically unlocks when there is hydraulic pressure to unfold them) prevents them from creeping back down. There is also a tap on the hydraulics for extra safety.
Wheels at the rear of each roller are fitted with large 400/60-15.5 tires and are used to lift the rollers clear of the ground. Carrying the weight of the machine in transport, they are spaced nice and wide apart for added stability. 
The main frame is engineered from some seriously heavy-duty box section, and the paintwork and finish over the machine is excellent.
Steering drawbar
As mentioned, the goal for Andrew Storey was a roll seed roll setup that could turn into a 12-foot gate at a right angle, off a 5m-wide race. To achieve this, both the front and rear rollers were fitted with hydraulic steering drawbars.
The clever design of the rollers, using a three-point linkage style connection between the roller and the drawbar, means the hydraulic drawbar can be easily fitted to any Titan CVU roller.
The main pivot point uses a heavy-duty solid steel clevis and pin. A hydraulic ram is used to change the angle of the drawbar in relation to the roller, to effectively steer the roller wide when turning into tricky gateways. It works incredibly well.
Each ram is fitted with a valve on top incorporating a small light, which signals when the drawbar is back in the straight position.
As well as getting through tight gateways, the steering drawbar will also find other uses such as slightly offsetting the rear roller to ensure a smooth overlap and steering the rollers uphill when working on slopes. 
The roller
Both rollers are identical and use a combination of standard rings spaced apart with breaker rings to help to smash up any clods on the surface of the soil.
As the breaker rings can move separately of the other rings, they have a self-cleaning effect in sticky conditions and can help prevent a bow wave forming in front of the roller.
The Duraforge rings found on the machine are made from cast steel rather cast iron so they can withstand a lot more punishment and have a longer life.
Loose rings are traditionally what cause breakages, so ensuring that the rings on each section are tight and secure add to the strength and protects the central axle. This is particularly important in rough or stony conditions to prevent wear and breakages.
The Titanloc system used on these machines makes it straightforward and easy to tighten each section up. On the end of each axle is a large hex nut that can be tightened using a purpose-built spanner (stored on the machine).
Two indexed washers and a locking bolt then ensure that once the nut is tightened, it will not undo itself. This is a great system that is easy to use and leaves no excuse for operators not keeping the gangs tight. 
APV seeder unit
Fitted to the rear roller is an APV PS500 seeder unit. This has a 500-litre plastic hopper, which holds around 220kg of grass seed. One of the only negatives I found on the whole machine is that the plastic lid on this hopper can be somewhat tricky to screw back on, as it has to be lined up exactly.
Otherwise, it is an excellent unit and even includes a low-seed alarm sensor inside.
Metering is electronically driven and the ground speed is taken from a radar for accuracy. There is a choice of metering wheels to give sowing rates from 1kg/ha to more than 200kg/ha and these wheels are easily changed. The seed bin does need to be empty, though, so make sure you change it before filling the hopper.
There are 16 seed outlets, making this an ideal unit for machines wider than 3m. 
When fitted to the CVU 4500, the splash plates are spaced just 300mm apart, which gives a good overlap without 'Y' junctions in the delivery hoses, allowing for even and accurate flow of seed to each outlet.
The seed is blown through the hoses with a hydraulic fan mounted on the back. This features an adjustment valve and an oil flow gauge that makes it simple to set the fan to the desired speed regardless of the oil flow coming out of the tractor.
Sometimes I think we are spoilt with how easy it is to calibrate drills these days, and the APV is no exception. A flap opens under the metering unit and the seed that is metered out is collected and weighed. The weight is then entered into the monitor and you are all ready to go.
Controls
Only three sets of remotes are required on the tractor: one set for the hydraulic fan, one set to fold the wings, and a third set for the wheels and steering drawbars. As they all have electronic switching valves, they can be operated independently.
A small, simple control box in the cab allows the operator to choose which rams are being controlled and to choose between operating both rollers together or individually.
A separate APV monitor is used to control the seed unit. This is simple and straightforward to use, displaying the usual info such as seed rates, forward speed, and area covered. It also allows the operator to adjust the sowing rate on the move.  
The bottom line
This is a great example of everyone involved working together to meet the customer's requirements. Owner Andrew Storey is happy with his machine; it does exactly what he asked for and he can manoeuvre it through some seriously tight gateways.
Upgrading from a 3m machine to the 4.5m working width gives him increased work rates at around 3.5ha/hr. Storey believes this is an ideal width as it still fits through most gaps around troughs and trees.
Since the arrival of the machine in late March, it has sown around 200ha into maize ground and he is pleased with the results so far.
Overall, the Titan CVU 4500 Roll Seed Roll is an impressive machine with some clever features and engineering, making it the ideal machine in this situation.  

HITS
Hydraulic folding with mechanical locks for transport
Electronic radar controlled seed metering system for accuracy
16-outlet seed distribution with generous overlaps and even distribution
MISSES
Hopper lid has to be lined up exactly and can be difficult to close
Titan Roll Seed Roll

| | |
| --- | --- |
| Working width | 4.5m |
| Transport width | 3m |
| Weight  | 7650kg |
| Seed capacity   | 500L hopper |
| Sowing range | 1-200kg/ha |
| No. of seed outlets | 16 |
| Splash plate spacing |  300mm |
| Wheels  | 400/60-15.5 |
Subscribe to our newsletter
Sign up to receive the Trade Farm Machinery e-newsletter, digital magazine and other offers we choose to share with you straight to your inbox
You can also follow our updates by liking us on Facebook. 

Graders For Hire | Cranes For Hire | Telehandlers For Hire | Excavators For Hire