Review: HiSpec Xcel 1250
---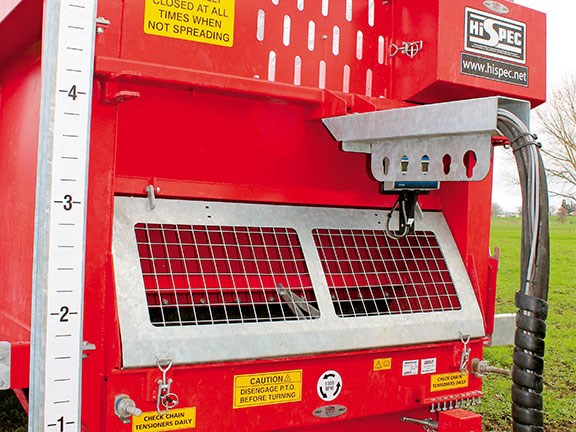 Hatch for cleaning and maintenance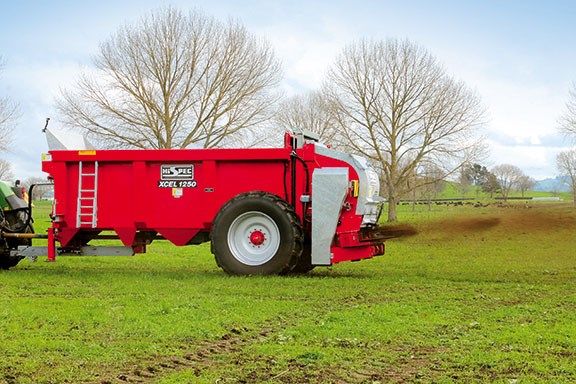 The machine gave a great spread, with a rough measurement of around 25m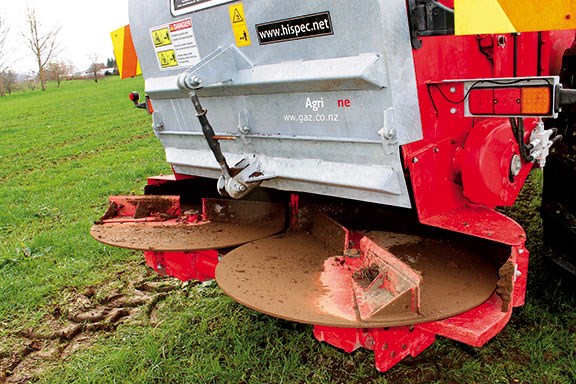 Spinner fins with flap for adjusting discharge patterns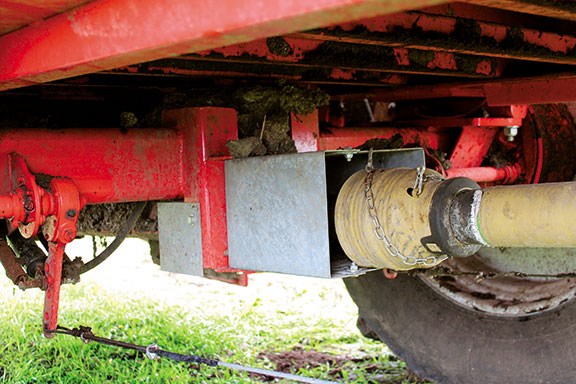 Rear gear boxes with weigh cells in the corners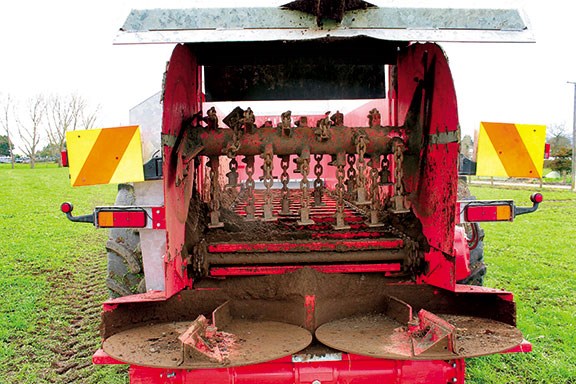 A unique flail system allows foreign objects to pass through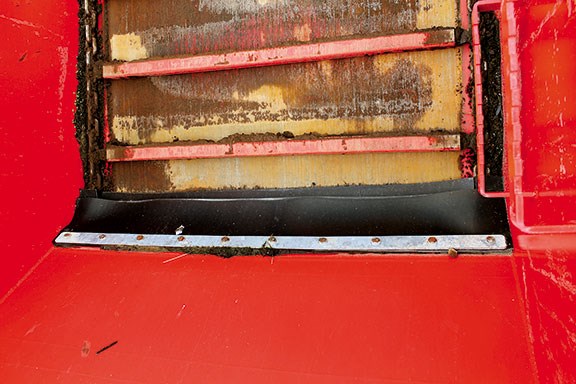 Rubber flaps front and back
Mark Fouhy heads to New Zealand to see how a HiSpec Xcel 1250 manure spreader handles poo hitting the fan, both solid and liquid effluent
Innovative chain spreading rotor
12-tonne capacity
24m spread width

The Irish HiSpec range of agricultural machinery is popular with farmers and contractors, respected for its robust build and high-quality finish.
One contractor who swears by the brand is Kiwi Phil Hawke, so we headed over to his base in Hinuera, in New Zealand's Waikato region, to check out his new HiSpec Xcel 1250 rear-discharge manure spreader.
Phil Hawke Contracting covers cultivation, planting, hay, silage and maize, and also provides effluent management services to local farmers outside of peak season.
A key feature of his new HiSpec Xcel 1250 is capacity, which he reckons is about 40 per cent better than his old gear.
The rubber seals at the front and rear hold liquids without losing half the load between loading and spreading, which is important to Phil as he will use this machine to spread effluent from weeping wall setups.
This will provide extra work for the business throughout the year, particularly in early spring before cropping and cultivation to give a boost to those paddocks.
FLAIL PROOF
The other positive, Phil says, is the unique flail design of the shredding rotor at the back. Most other muck spreaders use either twin vertical or horizontal auger spreaders. These work fine until you try to spread a concrete post or tyres or whatever else makes its way into the spreader unseen, potentially costing both time and dollars to repair.
The machine was purchased in March this year and, since then, driver Ollie Hawke has spread weeping wall/solid effluent slurry, chicken litter and goat barn material.
The day I caught up with the team, we put through some topsoil to check the spread pattern. It gave a great spread, with a rough measurement of around 25m. Ollie says that, generally, he would work on around 16m to 18m for chicken litter, and with slurry being heavier, he'd expect around 24m.
CONSTRUCTION
I was impressed with the construction of the Xcel spreader. Muck spreading is never usually an easy job, but this unit is made to handle whatever is thrown in it.
With a 4mm wall, 5mm floor, and 12mm Hardox rotor flails, it's durable and strong. The 14mm twin floor chains and 22 16mm rotor chains enable the operator to smash up whatever you've loaded and provide an even material consistency. Options are also available to customise the spreader for different applications.
OPERATION
Operation of the HiSpec Xcel spreader is straightforward. Hooked up to one of Phil's Fendt 818 tractors, power was no problem on the flat paddocks we were in.
However, with a weight of 6.8 tonnes empty and 12 tonnes loaded, tractor weight and power could be more important working on hilly country.
To get under way, simply select the PTO speed of 1000. The PTO drives the rear spinners as well as the shredding rotor. All gearboxes are rated to 200hp.
Two hydraulic outlets are required for operation: one for the floor and the other for the rear door height to control flow of material to the rear spreaders. This requires the most practice.
The surprising design aspect of this machine is that, with the anti-clockwise rotation of the shredding rotor, most of the material has to be lifted and thrown against the rear Hardox cover/door before dropping onto the spreader plates. I think this is a big factor in the accuracy of the spread achieved.
The four spreading vanes use a simple shear bolt system to provide protection in case of a blockage. There is manual adjustment of the rear door to alter/optimise spread pattern.
Previous to this model, HiSpec used a four-floor system. In this model they have gone back to a two-chain system on the edges with box section to improve spread pattern.
The hydraulic floor drive has an accumulator/pressure relief system to prevent damage. Slightly different from factory is the addition of electric floor control fitted to machines in New Zealand.
One of the main jobs for daily operation is checking chain tension. This is done at the front of the machine and, should they require adjustment, the necessary tool is mounted on the machine close at hand.
Convenient grease bank and auto lube for the chain drive of the shredding rotor are mounted on the left rear side, making servicing requirements simple. Should you need to get into the shredding rotor area for any reason, a double chain and hooks can be hooked to the rear door to lift the 500kg Hardox door.
THE BOTTOM LINE
I found little to fault the HiSpec Xcel 1250 spreader. It possibly requires an extra axle and set of tyres as an option to offset the built-like-the-brick-outhouse construction that is going to last for years. Otherwise, it ticks all boxes.
These Irish-built HiSpec muck spreaders are finding a market in New Zealand, helping spread valuable nutrients back on the land to keep things growing.
HITS
•        Innovative chain spreading rotor
•        A1 build quality
•        Well-sealed for handling wet material (for a chain floor system)
•        Accurate spread pattern
•        Good clean out of material
MISSES
•        Possibility of twin-steering axle option
HISPEC XCEL 1250 SPECS

| | |
| --- | --- |
| Capacity      | 12 tonnes |
| Spread Width  | 22-24m |
| Unladen Weight | 6800kg |
| Standard Tyres | 58070/R38 |
| PTO Speed | 1000rpm |
| Floor Chains | 2x14mm |
| Floor/Wall Thickness | 5mm/4mm |
| Dimensions | Length 7.75m; width 3.06m; height 3.085m; body 4.505m; loading height 2.25m |
Subscribe to our newsletter
Sign up to receive the Trade Farm Machinery e-newsletter, digital magazine and other offers we choose to share with you straight to your inbox
You can also follow our updates by liking us on Facebook. 

Graders For Hire | Cranes For Hire | Telehandlers For Hire | Excavators For Hire