Review: 2017 Ram 2500 pickup truck
---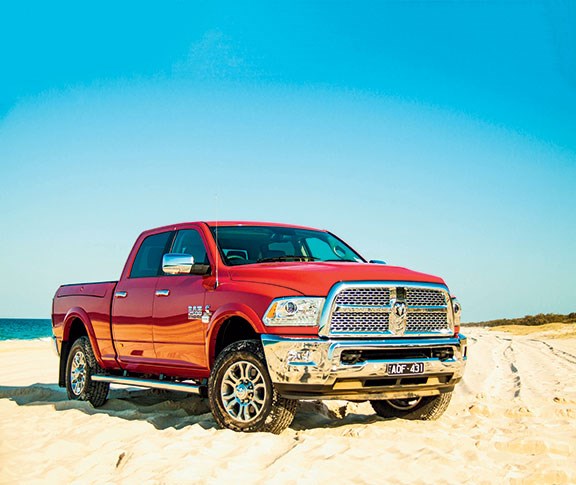 It's certainly a distinctive snout! The Ram look originally came about after research into masculine styling by an anthropologist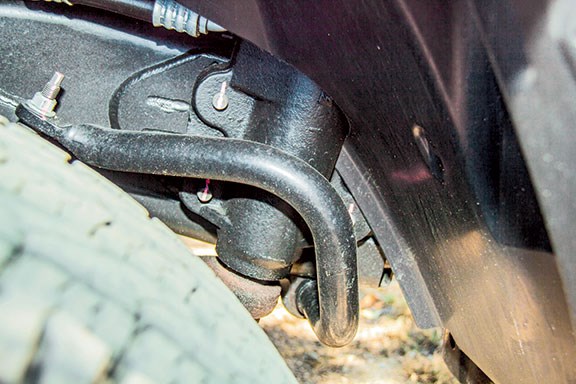 The factory-spec steering box is mounted outside the chassis rail, not unlike a Jeep Wrangler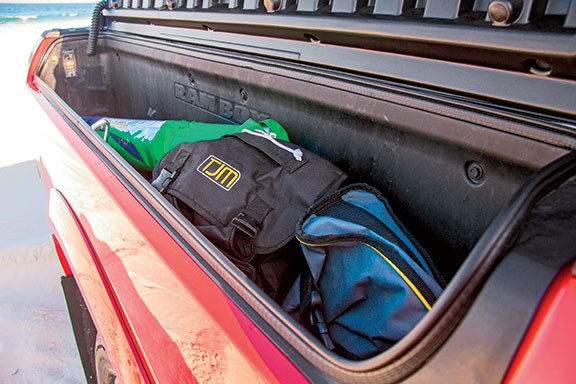 And they're surprisingly roomy. The Ram Boxes can also be used as an esky!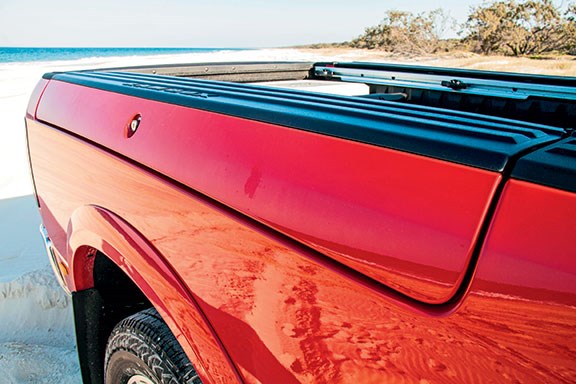 Ram Boxes are awesome. These storage compartments ended up being very handy indeed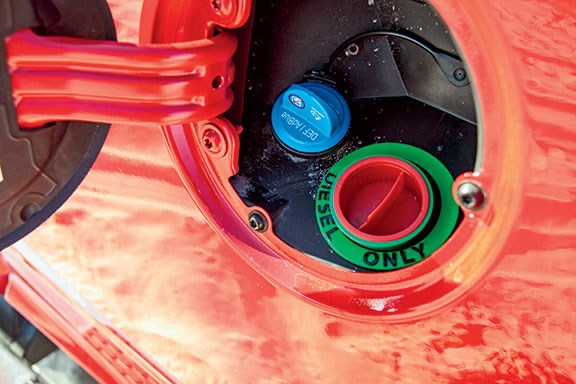 The 6.7-litre engine is an SCR engine, so Adblue is needed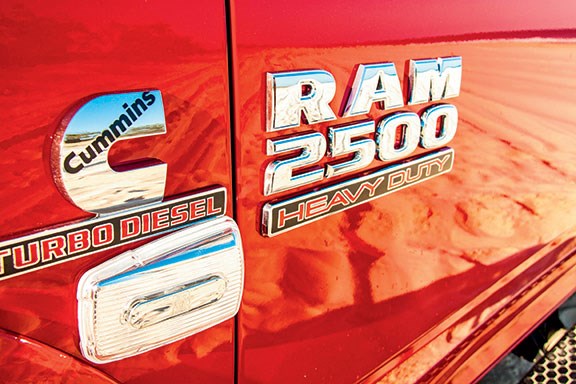 The name says it all. Ram is now the branding for all FCA commercial vehicles
Want to infuriate drivers of hybrid vehicles? Or maybe haul a house? Matt Wood shows you how with a 2017 ASV Ram pickup

Every time I drive a big Yank pickup like this 2017 Ram 2500, I find myself a little frustrated. The main reason being is that I've long ago exhausted my supply of redneck anecdotes.
I've worn out many a back woods cliché when writing about full-sized pickup trucks. I guess I'll just have to resort to reportage instead.
They stand out like the proverbial pair of canine accoutrements here in Australia, however over in the US of A, full-sized pick-ups are the best-selling cars by a mile.
And it seems Australia is set to follow suit, though admittedly on a smaller scale. It seems everybody wants a dual-cab 4x4 ute these days, though maybe not everybody wants one of these American monster utes!
Light truck or pickup?
Really, they're closer to being a light truck.
There's plenty of mumbo available from under that vast expanse of bonnet and also plenty of creature comforts – leather trim, climate control, sunroof and a multimedia touch screen. But, other than that, they still handle like a light truck, and have a similar footprint, though they do have a much better ride from the driver's seat.
For a truck tragic like me, there's plenty to like about the ASV Ram 2500. For a start there's a 6.7-litre in-line Cummins 6 lurking under that signature Mopar snout.
In American terms it's neither the biggest nor most powerful when compared the GM's Duramax V8 diesel or Ford's formidable 440hp V8. However, with 276kW on tap at 2800rpm and 1084Nm of torque from just 1600rpm it's hardly a slouch.
It's also quite a flexible engine and there's pretty extensive Cummins service coverage around the country. Transmission duties are handled by a 6-speed auto.
Given how spoilt for choice Aussies are when it comes to 4x4 utes, there are really only two reasons for buying one. The first is that you tow heavy loads over long distances. The second? You just want one.
Big towing
Braked towing is just shy of seven tonnes with a pintle hitch. However, payload is pretty much the same as your average Aussie market dual-cab ute at 913kg. The space between the rear wheel arches leaves enough room for an Aussie pallet to sit in the load bed.
A factory electric trailer brake system adds to the 2017 Ram 2500's towing credentials.
But the pickup conversation in this country really revolves around what company or individual carries out the right-hand drive conversion rather than whether it's got a Ford, Ram, Toyota, Nissan or GM badge on the front.
Who's got your back?
If you're shopping for one of these big brutes, what you really need to know is how well engineered the conversion is. And does this company have your back when it comes to servicing, parts and warranty?
I've seen, heard of, and even driven some shocking conversions. These trucks aren't cheap, regardless of who you buy them from. It may have an OE badge on the front but the truck has been remanufactured and re-engineered by a local company, and in this country that means that they are viewed as the manufacturer.
The level of complexity in cars and trucks these days means that there are a whole bunch of sensitive systems to poke around in when doing the conversion. Things like multiple airbags and electronic stability systems. There's also the structural integrity of the cab. Conversion companies take a crash-tested, safety-rated design and alter it to their own specifications.
I've spent quite a bit of time in the ASV Ram conversion, and it's a pretty impressive job. And it has indeed been crash tested.
Joint venture
The trucks come to Australia straight from the FCA factory in Mexico. They arrive complete with an Aussie-spec speedo and the Unconnect media system. ASV, which is a joint venture between Walkinshaw Automotive Group and auto distributor Ateco, then remanufactures the truck completely in its Clayton factory.
As a result, the interior looks factory made with a locally manufactured dash pad, and footwell room is also generous (a common issue when putting the steering wheel on the passenger side of the truck and the hot side of the engine).
The only real hiccup in this picture is the location of the foot-operated park brake, which is above the accelerator. This is counter intuitive to use and takes quite a bit of getting used to.  
In fact I'd go as far as to say that it's the best conversion job currently available on the Australian market. There's been quite a bit of Fiat Chrysler involvement in the engineering of this truck. All the components are validated to OE spec, and the right-hook steering box is manufactured by the supplier that makes the factory LHD 'boxes. 
So after all that guff, you may be wondering how it drives. It is quite fun to drive. Sure it's big – but it's also covered in parking sensors, and in town it's not really that much of a pain to park.
Testing times
The only way to really test the mettle of such a typically American vehicle like this is to try and negotiate the local Macca's drive-through.
I'm happy to report that with a little to-ing and fro-ing I made it through. That said, the store manager asked me never to attempt this again. Maybe he was mad because I only bought an ice-cream. 
The Cummins has a nice growl to it and, as you'd expect, when empty it doesn't take much right-foot action to get the big jigger moving. You can tell it really wants to lug something.
I didn't have time to tow with the truck pictured here, however I have towed a decent load behind one in the past. Again, you'd expect a big truck like this to haul well, and it does, with ease. The long wheelbase and heavy kerb weight makes this truck an extremely stable tow vehicle.
ASV only imports 2500 4x4 and the heavier-capacity 3500 4x4 Ram models at this point in time. The 2-speed transfer case is selected via a dial on the console when heading off the black top.
While towing may be the biggest selling point, they are also respectable off-roaders. The 2500 pictured here uses a multi-link coil-sprung rear end rather than traditional leaf springs. Surprisingly, though, the unladen ride of the 2500 is still quite harsh.
Surf's up
We hit the beach to check out the big truck's off-road capabilities, as it's a little big to be taking bush without any protective bar work. This 2017 model also features the Ram Box option. These provide handy lockable storage in the sides of the pickup bed.
This may initially seem like a bit of a gimmick, but it turned out to be an answer to a problem I didn't know I had.
I suspect that American buyers find these a great place to store hunting rifles. However, you can also fill them with ice and use them as an esky (there are drain plugs).
After a trip to the supermarket I found the boxes were the perfect place to stow my bags. Rather than everything rolling around in the back seat or in the pickup bed, my weekly shop stayed snugly stashed. The Ram boxes really are a handy option.
Before hitting the beach I aired down the tyres to about half pressure, however on reflection I should have dropped them even further. That said, the big ute monstered along the beach quite easily, though you are always aware that this thing weighs 3500kg. The combination of weight and heaps of grunt from the Cummins engine means it would be very easy to bury it in the soft stuff.
As a truck for covering long distances, the Ram excels. It's comfortable, cosseting and well appointed. Fuel economy was pretty good too: I averaged 19.2L/100km in a mixture of urban, off-road and highway driving.
A Ram dealer network covers most populated parts of the country. Many of these dealers also handle other FCA brands like Jeep, Chrysler and Alfa Romeo. Though it's worth remembering that ASV is a separate company in Australia.
Ram trucks are covered by a three-year/100,000km warranty with roadside breakdown coverage.  
Do I need one? No. Do I want one? Yep! 
ASV RAM 2500

| | |
| --- | --- |
| ENGINE | 6.7-litre Cummins turbo-diesel |
| POWER | 276kW @ 2800rpm 1084Nm @ 1600rpm |
| TRANSMISSION | 6-speed automatic |
| REAR SUSPENSION  | Multi-link coil springs |
| KERB WEIGHT | 3500kg |
| PAYLOAD | 913kg |
| GCM | 11,479kg |
Subscribe to our newsletter
Sign up to receive the Trade Farm Machinery e-newsletter, digital magazine and other offers we choose to share with you straight to your inbox
You can also follow our updates by liking us on Facebook. 

Graders For Hire | Cranes For Hire | Telehandlers For Hire | Excavators For Hire