Review | Allen CD 3000 contour drill
---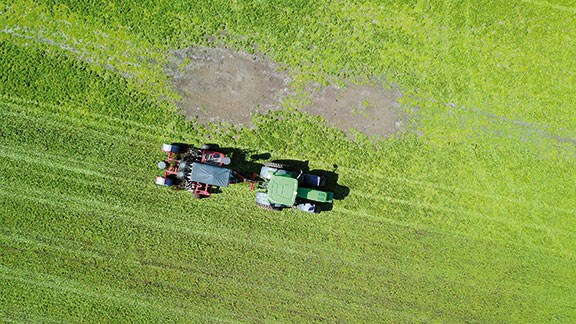 A bird's eye view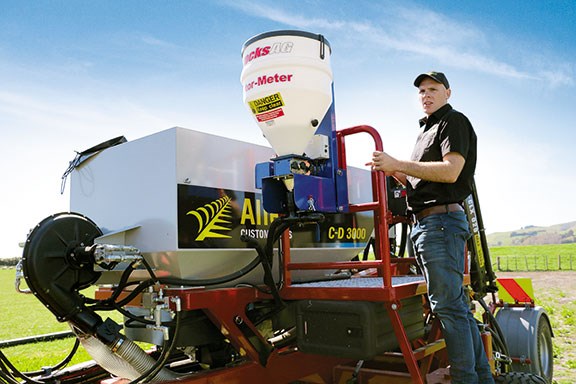 Reviewer Jaiden Drought on the CD 3000's easily accessible loading platform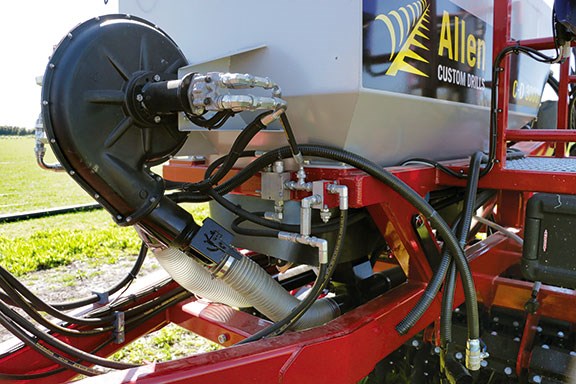 The large hydraulically driven fan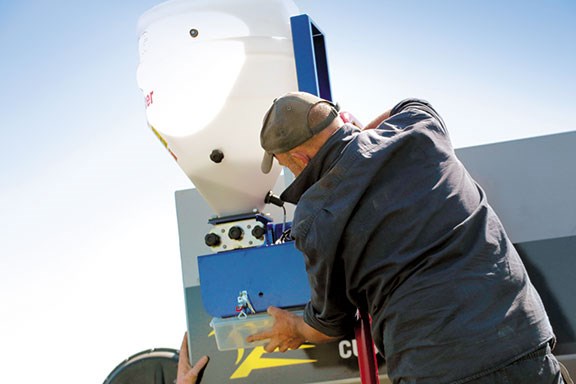 Calibrating the front clover box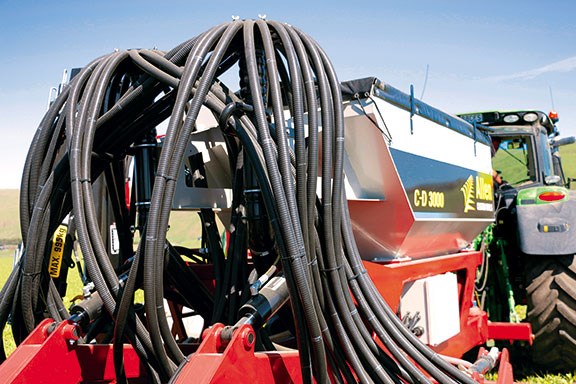 Seed and fert distribution heads are mounted high out back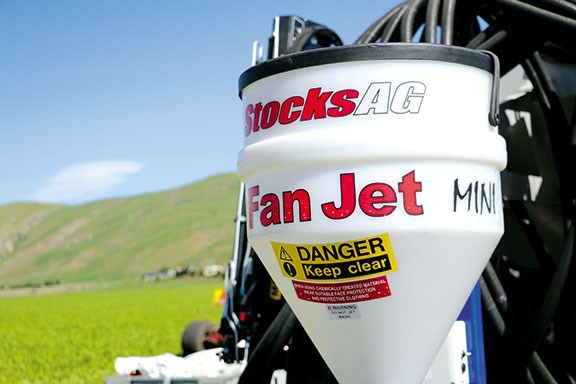 Optional rear slug bait spreader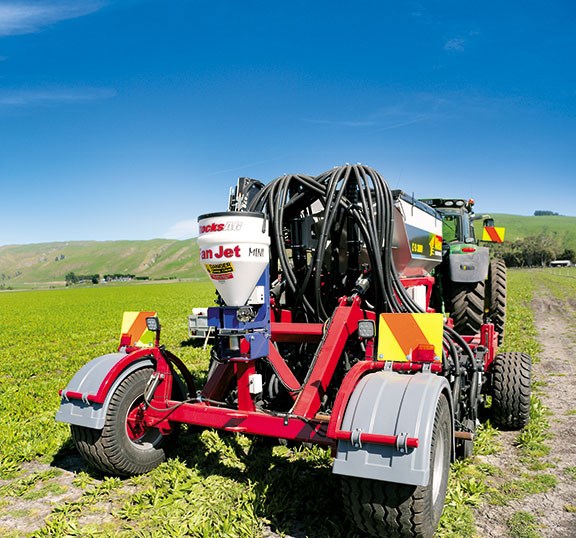 Mike Kettle Contracting's Allen CD 3000 drill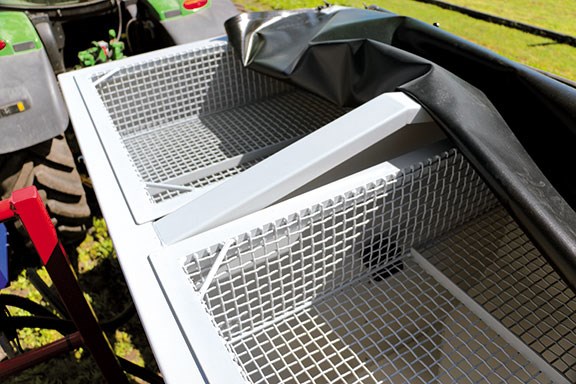 Split hopper for seed and fert

Jaiden Drought checks out the Allen CD 3000 contour direct drill, a triple-disc model which is proving popular due to its simplicity

After months of rain in many parts of New Zealand, I was sceptical about the conditions heading to Hawke's Bay to see machinery from Allen Custom Drills in action.
However, it was a complete contrast to what I'd been used to, with no sight of mud, pugging or torrential rain. Instead I got sunburnt, which was a surprise.
Mike Kettle Contracting, just south of Hastings, was my destination to check out the new Allen Custom Drills CD 3000 direct triple-disc drill, which is now the third one in his fleet. 
Two 6190R John Deere tractors with duals pull the 3m CD 3000 drills around the countryside.
A lot of steep country has become the norm, with horticulture and viticulture taking over the flatter plains in many areas of Hawke's Bay. This is pushing agricultural drilling into steeper country as the land on the flats is cost prohibitive for traditional dairy, beef or sheep farming.
There's always the attraction to go wider when it comes to drilling. However, because these drills are so heavy – which is a positive when it comes to build quality and ground penetration – the negative is that pulling it around the hills can end up in a situation where the tail is wagging the dog.
Mike did have a 4m drill that he used for a large dairy contract on flat areas. However, it became an issue on the hills and he has changed his line-up to three 3m drills, all from Allen Custom Drills. He knows he can send them anywhere and that his team can interchange the gear with all common parts and zero hassles.
Old vs new
The New Zealand-designed and -made Allen's CD 3000 features a 3m drill width and 5-inch row spacing which works well for Mike and his two drivers, Andy and Tim.
Andy was driving the brand-new machine that was on its first outing to wear some paint off. The drill Tim was using was eight years old and, although it has already covered 8500ha of tough country, it's still a sound, reliable machine given some of the challenging conditions.
The machines are similar, though over the eight years between them there have been some subtle changes as you would expect: hydraulic metering instead of electric, cast parallelogram components as opposed to handmade, and a hydraulic drawbar to allow more contour following in the rough country.
The new machine has a fixed drawbar but a pivoting headstock, as well as two-point linkage mounting, so you can lift the linkage arms up and down if you're in challenging country. Otherwise, the pivoting headstock will give you all the contour following you need and a better turning circle with duals.
Build quality
Overall, the Allens' build quality is unquestionable. As Mike says about the old one: "It's done a lot of work. It's eight years old and we simply don't fix it. It's still doing the job we bought it for originally. Chassis-wise, it's sound with no cracking.
"It simply looks as good as the day it came out of the factory, which is a testament to the original build quality."
Such confidence in the brand is demonstrated by the fact that Mike has purchased three machines from Allen Custom Drills.
"I know the country I'm dealing with, I know what the drills are capable of, and the system works. They are not cheap drills but I'm a big believer of getting what you pay for."
The CD 3000 is a good mid-size drill for Mike Kettle Contracting. The team can just plug away with a 3m drill without needing a massive tractor on the front, and then they can do harvesting work in summer. Also, Mike doesn't have a massive outlay in terms of large-frame tractors for climbing around the hills, which are too big for the rest of the year.
Drilling and stability
A key feature of any triple-disc drill is its ability to penetrate hard ground, which is often the case in the Hawke's Bay region.
Another great feature of the Allen Custom Drill is the machine's weight. The drill coulter has three settings for down pressure depending on the type of ground being worked, as well as two turn buckles for adjusting drilling depth across the whole machine.
With the combination of a triple disc system, the front turbo disc (rubber torsion mounted) creates the tilth, the rear double discs are angled to create a groove that seed and fertiliser are dropped into, and a press wheel closes the slot – a simple and effective operation.
Harrows on the back smooth out any bumps that the drill leaves. Trainer wheels out the side work well in steep country, adding extra stability on the slopes. They fold in to ensure the machine is road legal. The larger transport wheels take the weight of the drill to reduce scuffing at headlands turning. Mudguards, LED lights and the tow bar round out the back nicely.
Hoppers
Before you get to the hoppers, a smart-looking one-tonne-rated crane is tucked up on the loading platform which is spacious, simple, and equipped with a fold-down ladder. Although the loading height of the main platform is quite high, you can still throw bags of seed up from the ground at a manageable level.
The test machine had a split main hopper and two Stocks Ag spinners. The main benefit of four different seed boxes is that this allows drilling of Italian ryegrass and then clover. This allows the farmer to save mixing costs, but the big benefit is that you can bury the grass seeds slightly deeper for drier country. This gives better seed-to-soil contact.
RDS Artemis Controller
Like all other Allen Custom Drills, the Accord metering and distribution system has been further enhanced with RDS Artemis electronic rate control with auto calibration. This makes it simple to calibrate accurate seeding rates from under 500g to more than 400kg/ha.  
The latest RDS Isocan terminal with 7-inch touchscreen has the ability to run the four hoppers (seed, fert, and the two Stocks AG slug and clover speeders).
The digital controller in the cab has a large, easy-to-read screen with an uncomplicated menu and a keypad. Main features include covering fan RPM, ground speed, sowing rate and hectares drilled, as well as a cumulative total.
The key difference on the new machine is that it's a lot easier to get around for calibrating. The calibration tray slots in nicely and is uncluttered. Another bonus is that, for metering out seed at the end of the job, you simply sit a sack underneath. It couldn't be easier.
The bottom line
Standout features of the Allen CD 3000 drill are build quality, a well-proven triple disc system, and the accurate RDS Artemis controller/metering system.
For Mike Kettle, the main drivers behind having three of these drills are their low running costs and solid build, which means they can keep doing the hectares.
The other major benefit is the use of generic off-the-shelf replacement parts, which keep overall cost of ownership to a minimum. Outlaying this amount of money for a machine works out to be an effective investment in the long run.
The low cost of ongoing ownership and the drilling results on challenging steep country makes the CD 3000 a no-brainer.
HITS
Bin size options. Can be portioned for seed and fertiliser, insecticide, and slug bait or run four bins like the test machine.
Crane with one-tonne capacity
Drilling widths – 3m, 3.5m, rigid or 4m, 5m, 6m. Hydraulic folding to 3m transport width
Oil cooler/ heat exchanger
Accurate RDS metering with rates from less than 1kg/ha up to 400kg/ha
Front rubber mounted
Turbo discs
Chain harrow bars
Trainer wheels
Camera in bin
Mud guards/tail lights/oversize panels
Two-point linkage mounted for better contour following and tighter turning circle for tractors with duals
MISSES
The weight of the drill can
Can be your friend but needs to be treated with caution on the hills
Subscribe to our newsletter
Sign up to receive the Trade Farm Machinery e-newsletter, digital magazine and other offers we choose to share with you straight to your inbox
You can also follow our updates by liking us on Facebook. 

Graders For Hire | Cranes For Hire | Telehandlers For Hire | Excavators For Hire