Review: Farmtrac 9120 DTN tractor | Full Test & Specs
---
The Polish-made Farmtrac 9120 DTN is trying to crack the Oz market and Tom Dickson reckons that with a few tweaks it may become a serious player

Farmtrac is cheap but it's not nasty, and it is blue but not New Holland. So why is this new budget-priced, premium-looking tractor launching itself onto the Australian tractor market?
The Farmtrac brand is an unknown quantity in Australia because the agricultural machinery company Sota Tractors only just launched it onto the Australian market in early 2017.
While Farmtrac may be a bit of a mystery within the agricultural industry, the brand names of its components are definitely not. Sporting a Perkins engine with Bosch fuel injection, a Carraro transmission, Mita hydraulics and a clutch system from LuK, it suggests that the 110hp Farmtrac 9120 DTN is better than its $69,000 price tag would suggest.
If that isn't enough to prick your ears and spark a bit of interest, then this will. You also get a front-end loader with a 4-in-1 bucket as well as pallet forks, hay forks and a round bale grab thrown in to the deal.
So how can Sota Tractors offer a so-called premium tractor at such an attractive price? Well, apparently it's for a number of reasons.
Firstly, Farmtrac had its origins in India, so it's adopted the sub-continent's model for low-cost production.
Secondly, in a move to establish more credibility as a European-made tractor, manufacturing was moved to Poland where the cost of production is also lower than other European countries.
Thirdly, Sota Tractors imports and distributes all over the country via three distributorships strategically located in Melbourne, Sydney and Brisbane.
So, by eliminating the costs associated with supporting dealerships spread all over the country, combined with the low cost of production,  Sota Tractors is able to pass the savings on to the customers and offer its Farmtrac tractors at a very attractive price compared to other premium tractors on the market.
OLD-SCHOOL ENGINE
Under the bonnet is a standard 4.4-litre, direct-injection diesel engine, using a Bosch fuel injection system. It is a genuine, European-made, 4-cylinder Perkins engine which instils a bit of confidence right from the outset.
There is no emissions paraphernalia like SCR, EGR or DOC which will please those who prefer old-fashioned simplicity. Its maximum 110hp is achieved at 2300rpm so it's more than capable of running round balers, hay mowers or cultivation equipment up to about 3m wide.
The fuel system consists of a 160-litre fuel tank, a standard fuel filter and a water separator filter. The water separator has a clear bowl so you can see any accumulation of water and remove and clean it in between routine engine services, which are scheduled every 300 hours.
The rare downside to a standard-injection engine is that if you run it out dry or get air in the system, you have to then perform an old-fashioned manual bleed by loosening the injectors and cranking the engine to expel all the air out of the lines to allow it to start again. The upside, however, is that you won't be left stranded in the paddock due to a faulty piece of electronics or blown fuse.
The cooling package at the front of the engine is fixed and does not fold out, but each item in the package has sufficient space between it to allow for easy cleaning. The air filter is perfectly placed right at the front for easy access which in turn encourages regular cleaning.
There is about a 10cm gap between the rear of the engine and the cabin to allow good airflow and help reduce heat transferring into the cab. The insulation fitted to the front of the cabin (behind the engine) gives it that little bit of extra protection against heat and noise from the engine.
In fact, all things considered, it appears to be a simple but reliable engine made by a renowned engine manufacturer and is very easy to maintain by those with even minimal mechanical knowledge.
TRANSMISSION
In regards to the 9120's transmission, Farmtrac has stuck with its policy of simplicity to maintain cost effectiveness. The Carraro stick shift is a basic 4-on-the-floor synchro transmission with high, medium and low range, plus a high/low speed for each gear. So that provides 24 forward and 24 reverse gears.
A forward/reverse synchro shuttle lever on the steering column brings it into line with most tractors of the modern era. For me, the shuttle lever is positioned a little too far away, making it uncomfortable to reach.  
The German made LuK clutch is a twin-disc dry clutch with mechanical clutch control. Electronic four-wheel drive and diff-lock engagement buttons are conveniently located on the right-hand side console, which adds a touch of modern luxury. It is recommended to engage them only when the wheels are rotating at the same speed or when the tractor is stationary to avoid clashing of the gears.
Gear changing can be done on the fly but range changes can only be achieved when the tractor is brought to a complete standstill. The 9120 has a top speed of 40km/h.
COMFORT
The steering wheel can be adjusted up and down but does not telescope in and out. If you want to get closer or further away from the wheel you have to do it by adjusting the seat forwards and backwards.
Riding on air suspension means you can customise it to suit your specific weight but it's not the most comfortable seat that I've been on. It feels as though it could do with a bit more padding and it didn't have much suspension travel on rough ground.
I couldn't find a happy medium. I felt like I was sitting way too low if I let a bit of air out to soften the ride, but if I pumped it up a bit to take my weight it felt way too hard and topped out on rough ground.
The first time I jumped in I put a bit too much weight on the right-hand side armrest and it actually broke off. My advice to Sota Tractors would be to insist that a better-quality seat might be fitted to future Farmtrac tractors. Operator comfort is an absolute priority nowadays.
Driving the tractor is refreshingly simple. Operating the transmission is the same as a car. The lights and wiper controls are on the steering column just like a car, not to mention the air-conditioning and Sony entertainment unit – this includes USB, Bluetooth and a good set of Pioneer speakers. So if you have any sort of driving experience, the 9120 will feel quite familiar.
The cabin has a really good feel. It's a six-pillar cabin but still has excellent visibility. It feels spacious and the doors close easily and seal well. Despite the seat issue, the cab is really well finished. Most of the internal linings are hard plastic mouldings which won't tear and are easier to clean compared to material.
The attention to detail regarding the workmanship within the cabin is actually quite good. The door handrails are well positioned and smooth. In fact, apart from the seat, I'm pleasantly impressed.
THREE-POINT LINKAGE
The Category 2 three-point linkage has a maximum lift capacity of 4500kg. Both left and right linkage arms can be manually adjusted up and down and both have adjusting stabiliser arms.
Hook ends help reduce the time it takes to attach implements,  while controls mounted to both sides of the rear mudguards allow the operator to control the linkage from outside the cabin. While the outside controls are in use the inside linkage control mechanism is locked out, so someone sitting inside the cabin cannot accidently move the linkage arms and cause injury to the person hooking up an implement.
Inside the cabin the linkage is operated by an electronically controlled console. It includes an LED screen displaying all the functions and settings of the linkage. It is easy to operate and provides a sense of modern technology.
The tractor always starts with the linkage in the locked position to prevent any accidental movement of the linkage arms. A couple of pushes on the electronic linkage lift and lowering button unlocks the linkage and it's ready for use.
PTO
It has a 2-speed PTO consisting of the traditional 540 and 1000rpm. There is no economy mode like many modern tractors, but as most PTO driven implements in Australia run at 540rpm you can select 1000rpm and run the tractor at lower engine revs and effectively use it as an economy option.
I am surprised to discover that it still provides the option of ground-speed PTO drive as well. You don't see it much nowadays and, to be quite honest, I don't see a huge demand for it as there are not many implements made now that require it. However, it's there as an added option. I'm sure there are still a few old super spreaders out there, like the Marshall, which used ground-speed PTO as a form of variable rate control.
It does have electronic engagement and the PTO speed is clearly displayed on the dash in plain view from the driver's seat.
HYDRAULICS
The MITA hydraulic system includes three sets of hydraulic remotes and is fitted to the rear. One is set up as just a standard hydraulic in and out. The second is equipped with float and the third has indent at both ends of the stroke to lock in constant flow. Each rear remote is colour matched to its corresponding lever inside the cabin to help avoid confusion.
The hydraulic pump supplies a total of 85 litres per minute to the system, which is about standard for a tractor in this horsepower range. From those 85 litres, 55 are allocated to the remotes and loader and the remaining 30 are reserved for the steering. 
TYRES
It has 380/85R24 radial tyres on the front and 460/85R34 radials on the rear. The rear wheels have 150kg of weight bolted to the rims and, to further improve stability, the tyres are three quarters filled with water. All in all, that provides over half a tonne of extra weight on the rear.
The tyres have a nice wide, flat footprint. The extra weight of the water in the rear tyres lowers the Farmtrac's centre of gravity, which is comforting during front-end loader work.
LOADER
At $69,950, the 9120 is already a pretty good value-for-money pickup and, when you throw in the 1330kg-lift-capacity loader manufactured by Metal-Fach, it gets even better. Included in the loader package is a 4-in-1 bucket, hay forks, pallet forks and round bale grab. Topping off the loader package is an all-in-one joystick with electronic third function control integrated into the joystick.
It's a really solid-looking, well-constructed piece of equipment that appears as good as any that I have seen on the market, but its old-fashioned individual hydraulic couplers do let it down a bit. Given the choice I'd go for the all-in-one quick coupler every time.
The bucket quick-release lever is located at the side of the L/H loader arm, so you can connect and disconnect the bucket without reaching into the centre of the loader beams. All the hydraulic hoses are plumbed within the loader beams to provide a bit of extra protection.
SWEETENERS
Other standard features that help sweeten the deal even further include a battery isolator, LED lights all-round, rear guard extenders as well as front mudguards and a rear bottom cabin window that allows you to grab bits and pieces out of the cabin from behind.
THE BOTTOM LINE
I reckon there are only three categories of tractors on the market in Australia. There is the premium range, the mid-range, and then there's the budget range which can best be described as the "you get what you pay for tractor".
Since the 1950s and '60s, most Aussie farmers had a John Deere, Ford, Case or Massey Ferguson. Some of the names have changed over the years but in some shape or form these still exist today and are now joined by the likes of Fendt, Deutz, New Holland and Claas, plus various others which I believe make up the premium line-up of tractors currently on offer in Australia.
The mid-range is made up of second-tier tractor manufactures that are making a good fist of putting together a quality tractor. These are basically a very good piece of machinery made of quality components but don't yet have the same standard of finish and up-to-date features.
In my opinion, the 110hp Farmtrac 9120 DTN tractor sits somewhere close to the top of this category. It is a reliable workhorse for the everyday farmer on a small-to-medium-size operation.
The Farmtrac 9120 will get a lot of attention from prospective buyers looking to save a few bucks. It's not quite up with the big boys yet but after a few minor issues have been addressed, it will start to apply some serious pressure.
HITS
                                                Genuine Perkins engine
                                                Complete front-end loader package
                                                Rear wheel weights included
                                                Three sets of rear remotes with colour matching
                                                Good finish inside the cabin
                                                Rear guard extenders
                                                Good styling
                                                Price
MISSES
                                                Substandard seat
                                                Positioning of shuttle lever
                                                Individual hydraulic couplers for the front-end loader
Farmtrac 9120 DTN 
 Engine
 4-cylinder 110hp Perkins
 

TRANSMISSION

 
Make
 Carraro
Type      
 Synchro mechanical
Speeds
 24 x 24
PTO
 540/1000
Hydraulic oil flow
 85L/min
Rear remotes (no.) 
 3
3 Point Linkage 
 Cat 2 4500kg lift
Length, Width, Height 
 4567mm x 2000mm, 2773mm
Clearance
 477mm
Weight (total)
 4666kg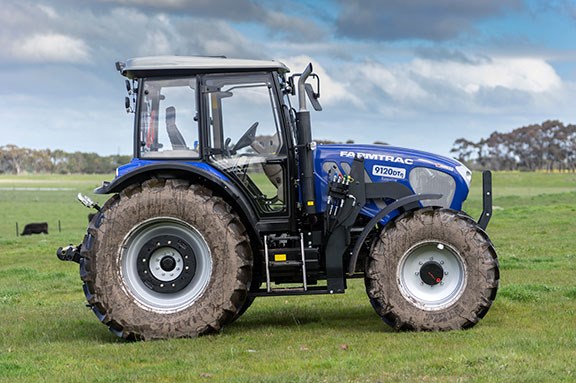 Aimed at the budget conscious, the 110hp Farmtrac 9120 DTN tractor has arrived and is ready for duty on small-to-medium-sized Australian properties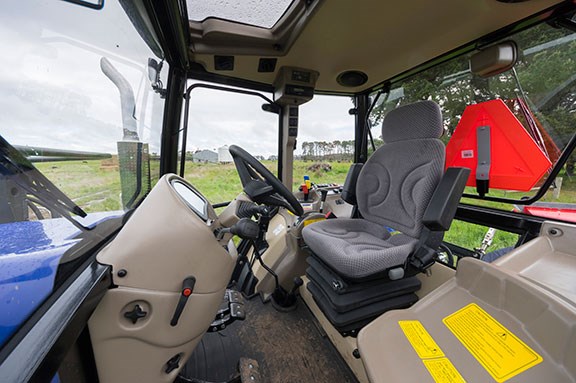 The cabin design and visibility is as good as any on the market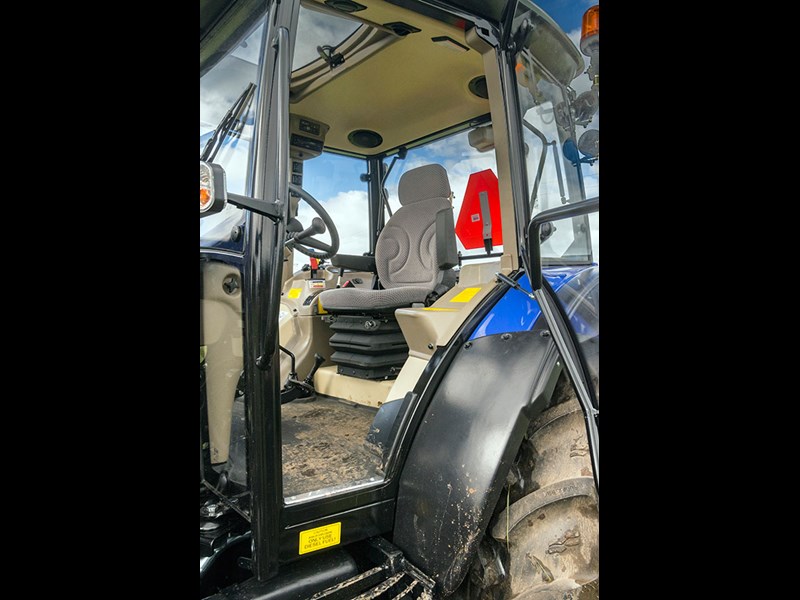 The cabin is well organised and has great visibility but the seat selection needs to be addressed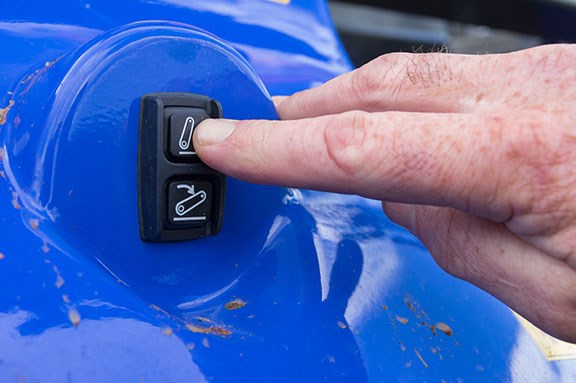 Electronic three-point linkage control buttons are fitted to both the left and right rear mud guards.

Subscribe to our newsletter
Sign up to receive the Trade Farm Machinery e-newsletter, digital magazine and other offers we choose to share with you straight to your inbox
You can also follow our updates by liking us on Facebook. 

Graders For Hire | Cranes For Hire | Telehandlers For Hire | Excavators For Hire