Fendt 942 Gen 6 Review
---
The Fendt 942 Gen 6 is certainly eye-catching and it's just as much fun to get behind the wheel of. Farm Trader NZ's Jaiden Drought finds out more.
The Fendt 900 Series tractor success story started back at Agritechnica 1995, with the 260hp (194kW) Fendt Favorit 926 Vario. Back in the days when we could still travel freely, I was privileged enough to attend Agritechnica 2019, where the new Fendt 900 Series Gen 6 tractor scooped two Tractor Of The Year (TOTY) prizes.
The most notable of these was the much-coveted overall TOTY award and the Fendt team were justifiably pretty chuffed.
WHAT'S NEW?
Testing the first (and only) Gen 6 Fendt 942 in New Zealand wasdefinitely a bit of a treat. The fact that this particular machine is the fully spec'd 'Black Beauty' edition added another layer of buzz. It sure turns heads wherever it goes. Agco North Island sales manager Chris Bain had been let loose on the tractor configurator when ordering this machine and opted for an impressive number of bells and whistles.
Two words sum it up: complex and expensive. It's complex in terms of the engineering that allows it to do the freakish things it does for such a large machine, yet remarkably without being a complex machine to operate. And as for being expensive – well, you only live once.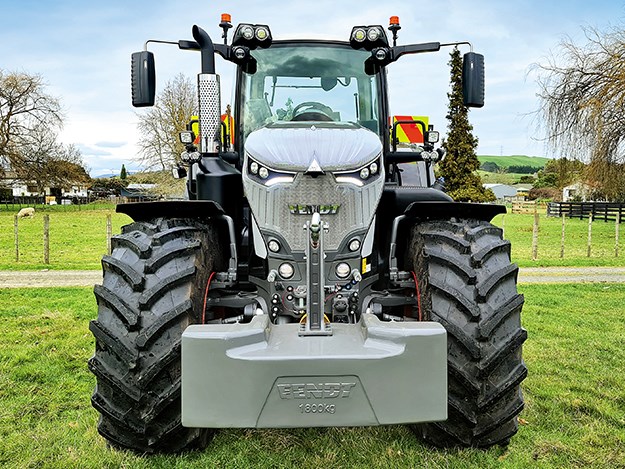 The massive Ashland scoop didn't hold it back.
Revamped from the ground up with many similarities to the 1000 series, the new five model series sits in the power range of 296 to 415hp (221 to 309.5kW) slotting (with some overlap in power) between the Fendt 800 Vario and the 1000 Vario.
The new range-topper, the 942 Vario, is the first time past 400hp (298kW) for the 900 series models and to show they mean business, you can opt for an extended warranty for up to eight years or 8,000 hours.
The team behind the creation have thought of everything, right down to the catchy marketing phase 'Fendt – it's time'. This is a clever play on words, as nearly 400 years ago, the Fendt family started out making clocks.
In 1930 came the first Dieselross tractor that was developed by direct descendants of those clockmakers.
ENGINE
They say don't get a boy to do a man's job, so Fendt hasn't. In fact, it has a nine-litre MAN on the job. This six-cylinder high-pressure common rail bad boy meets all the Stage 5 regulations and has eye-watering torque stats of 1,970Nm at just 1,100rpm on the Fendt 942 Vario. Despite the numbers, this is rated at 415hp (309kW).
The Fendt iD low-speed, high-torque concept uses high power reserves, proving game-changing in the 1000 series and now in the 900 series for the first time. The engine speed rarely exceeds 1,700rpm, with max power between 1,100 and 1,500rpm, while idle is a frugal 650rpm. The result is that the 625 litres of fuel in the tank and 70 litres of AdBlue will easily last a hard day's work.
To keep the financial boss in your life happy when giving the full-blown sales pitch on why you need a big black Fendt, the 1,000-hour service intervals will be sure to win them over.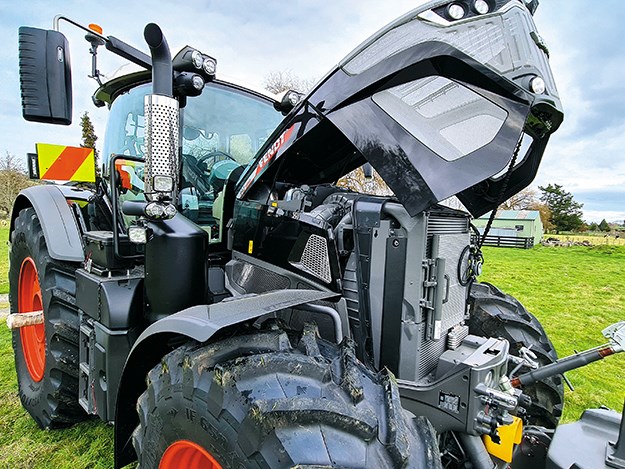 The cooling fan is behind the radiator.
VARIO
Known for continuously variable transmissions (CVTs), the Vario has passed the 25-year milestone and remains a masterclass. The TA 300 Vario transmission in the Gen 6 900 Series is rated to 300kW and can reach a top speed of 60km/h at 1,450rpm, 50km/h at 1,200rpm, and 40km/h at 950rpm – unreal.
One gripe with the Vario over the years has been the mechanical range change between 'field' and 'road'. No longer folks. Like the 1000 series, one range and due to the Fendt iD front axle drive no 4WD either, this is permanently engaged at speeds up to 25km/h.
My initial reservations about these large, high-powered tractors in a conventional configuration is how on Earth are they going to get enough ballast to get all that power to the ground?
The Fendt iD concept's success is largely due to the unreal traction these machines can achieve through complex engineering: a slightly longer wheelbase (100mm longer at 3.15m), the VF750/70 R44 tyres, which have been developed with Trelleborg, and another clever innovation called VarioGrip, which I will address soon. To put it simply, with Fendt iD, there are two Vario gearboxes, one driving the tractor and the rear wheels while the front axle is driven separately.
There's no drive shaft; just a complex myriad of electronics talking to mechanical components, but the results are spectacular, delivering no tension and full traction. Especially when headland turning, the pull-in turn, small turning circle, reduced tyre and unbroken traction serves up a dream result.
CAB LIFE
Thanks to the many optional extras available, the Black Beauty's Life-Cab is where Bain really went to town. The infotainment package and sound system are particularly impressive. Developed with an institute for acoustics, the premium version as a 4.1 sound system and subwoofer integrated soundbar.
For those running a business, the hands-free system consists of eight microphones in the roof, which communicate with each other, along with radio antennas in the roof and side windows for outstanding reception – elite stuff.
The luxurious leather Evolution seat is outrageously comfortable while being heated and air-conditioned. Just to show that Fendt has thought of everything, the air for the seat comes from the external compressor to keep noise out of the cab.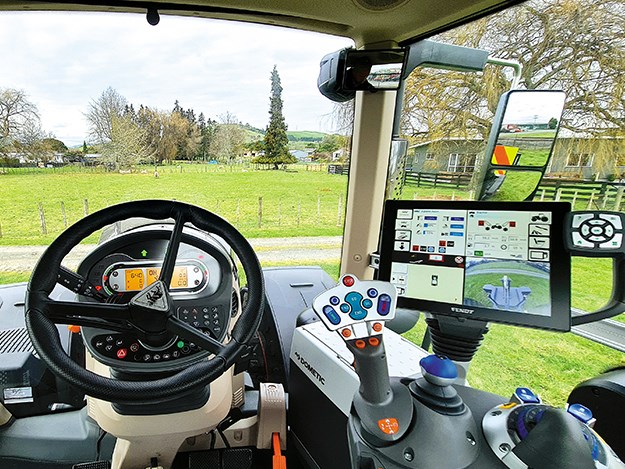 The spacious cab has three-point air suspension.
Speaking of air, all Fendt 900 Series machines are supplied with air for VarioGrip, trailer brakes and also the three-point air cab suspension with stability control – plush comfort and selflevelling for 60km cornering; I'm not lying.
In terms of driving the machine, like all Fendt machines, operation is a doddle and if you have driven any Fendt, you will immediately feel right at home.
TECH PACKED
Packed with technology and featuring some of the latest cutting-edge innovation on the market, the Fendt 900 includes a lot of gear.
Regarding the Varioterminal, the 10.4-inch (26.4cm) screen can be split into four segments: hydraulics, linkage, camera and GPS, or run as one large screen where ISOBUS attachments can be intuitively controlled. Tractor Implement Management (TIM), and TIM-ready attachments set up can allow the implement to control certain tractor functions, such as driving speed.
Smart Connect, which comes as standard on all ProfiPlus models, allows a tablet screen to be used as an additional display for ISOBUS, machine functions, or the auto-guidance screen if the ISOBUS machine control is being used on the Varioterminal or vice versa.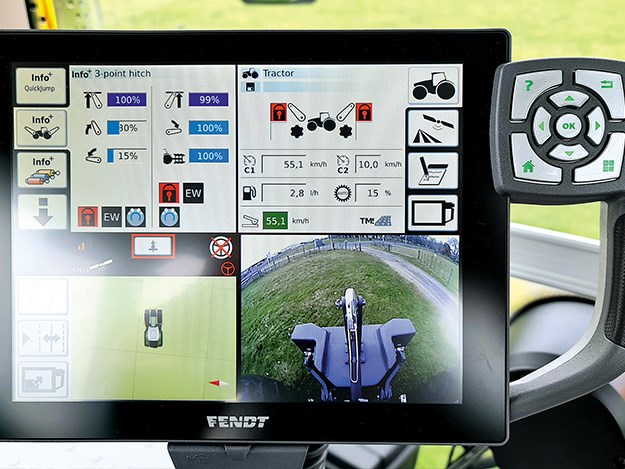 The large display screen can be split into a four-view or a single large display.
Fendt Connect reads, stores and evaluates machine data, sharing data via the mobile network where the owner can view things such as position and driving route of the tractor, fuel consumption, speed and machine working time.
Fendt TI Headland allows for smart headland management; all complete with complex names, while VariotronicTI is the single button activation of the headland sequence.
Finally, the VarioGuide GPS allows for individual sequences, i.e., lift linkage, turn power take-off (PTO) off and drop engine revs when a preselected headland position is reached, then go through these again in reverse order once the VariotronicTI Turn Assistant (automatic turning sequence) has turned the machine
and crossed the VarioGuide virtual headland activation line.

VARIOGRIP AND SUSPENSION
Unladen, the tractor is 11.7 tonnes, leaving an impressive 7.3-tonne implement weight to take it to the maximum tare of 19 tonnes. Let's head back to school for a minute, physics in particular. Remember people: power + weight = traction. Isaac Newton wouldn't have factored using optimal tyre pressures (a massive oversight on his behalf).
Instead, just the usual compromise between tyre wear on the road and traction in the field. Enter the 'VarioGrip' tyre pressure system, further refined for the Gen 6.
The integrated dual-line system now has enough capacity to also supply duals on bar axle models.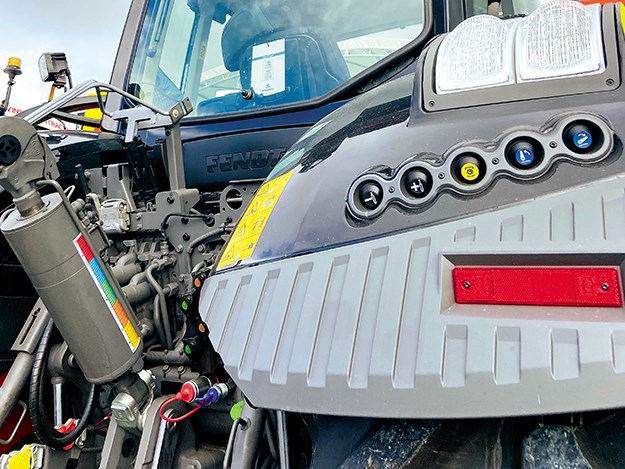 The 66 lumen 360-degree light concept is the brightest ever on a Fendt machine.
Grip Assistant is activated in the Vario Terminal that prompts the right pressure in relation to current conditions. It will also determine the ideal ballast and tyre pressure at a predefined speed or the best possible working speed and optimal
tyre pressure if the ballast on the tractor is already fixed, like our test machine with a front weight and two lots of rear wheel weights.
I've already mentioned the three-point hydropneumatic cab suspension, but the  axle is equally impressive with doublewishbone drive giving single-wheel suspension for amazing ride comfort and, better still, is maintenance-free.
LINKAGE, PTO, HYDRAULICS
As if the aforementioned features weren't enough to get you rushing down to your nearest dealer to source a Fendt 900 Series, then the hydraulic system is sure to impress.
Up to 430L/min can be spec'd: two load-sensing pumps in a high-performance dual-circuit system, one with 220L/min and the other 210L/min. If your new Gen 6 is just going to run the three-ram grader blade, the 165L/min or 220L/min options will be more applicable.
You can have up to eight spools (two front, six rear) and two couplings can deliver flow rates of 170L/min (optional), while 120 or 140L/min are standard. Two-way relief couplers on each rear spool are a handy feature and allows implements to be connected even if pressure is in the implement line.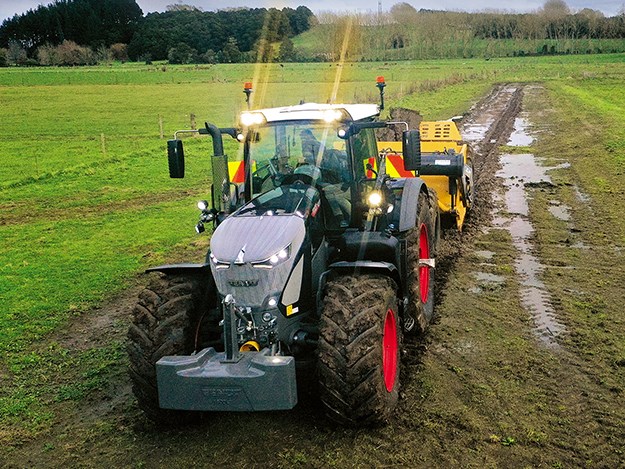 In these less than ideal wet conditions, the VarioGrip was a must.
The front and rear lift capacities are 5,694kg and 12,655kg respectively. Another nice touch on the linkage are two gas struts on the top link holder, making implement connection a doddle.
Speaking of implements, we hitched up a massive 17-yard (15.5m) Ashland scraper to try and hold the Fendt 942 back, which proved unsuccessful, despite mother nature and wet claggy soil conditions also adding to the challenge.
The two speed PTO (540E/1000 or 1000/1000E) with the option of a 1,000rpm front PTO make this a versatile machine in any fleet.
VERDICT
As you'd expect with such a mind-blowingly impressive machine, the price tag is equally impressive. To be fair, the price tag isn't actually streaks ahead of any similar competitors in this class and spec level, but I would argue that finished product here really is next level.
The VarioGrip is a game-changer over the previous models, as it's now combined with the Fendt iD low-rev high-torque concept and the independently driven front and rear axles. While I was on Cloud 9 driving the streets of Hamilton and the fields of Morrinsville, it makes me sad to realise I will probably never have the opportunity to drive the Black Beauty 942. My wife is lenient but not THAT lenient!
Specifications
Engine MAN
Cubic cap 9L
Power max 415hp, 1,970Nm torque @1,100rpm
PTO 540E/1000 or 1000/1000E
Trans Single range CVT 50km/h
Hydraulics 165/220L/min or dual circuit 430L/min
Susp Double wishbone independent front suspension and three-point air cab suspension.
Linkage cap 5,694kg front and 12,655kg rear
Fuel tank cap 625L of fuel and 70L of AdBlue
Wheelbase 3.15m
Tyres 750/70 R44 rear 650/65R34 front
Subscribe to our newsletter
Sign up to receive the Trade Farm Machinery e-newsletter, digital magazine and other offers we choose to share with you straight to your inbox
You can also follow our updates by liking us on Facebook. 

Graders For Hire | Cranes For Hire | Telehandlers For Hire | Excavators For Hire