Can-Am HD10 Defender Pro DPS review
---
A lack of Field Days didn't stop Farm Trader NZ's Mark Fouhy from getting his hands on the new Can-Am HD10 Defender Pro DPS.
This year, the Can-Am HD10 Defender Pro DPS would have been one of the star attractions at field days around the country, but without that opportunity, we decided to take matters into our own hands and test drive the machine over a weekend of work and play time. Having been released to the New Zealand market a few months ago, this model is no muck-around toy.
Can-Am has gone big with this machine, but just how big? With the rear tray measuring 4.5-foot wide by six-foot long (1.4m x 1.8m), there's not going to be much you can't haul on the back of this bad boy.
Thanks to the team at NV Motorcycles in Morrinsville – the local dealer for Can-Am – we were lucky enough to get a demo model delivered to us for a long weekend of test riding.
PUT TO THE TEST
In all honesty, it has to be said that first impression of the Can- Am HD10 Defender Pro DPS is that she's bit of an ugly duckling.
Others on farm who shared their thoughts followed a similar vein, along the lines of it being 'a bit of a bus or stretch limo'.
There's some truth to these comparisons, given that the chassis has come from the Defender Max range, which has the ability to carry six passengers, with a more standard size rear tipping tray.
However, it's a valuable lesson in not judging a book (or side by side) on first appearances, as once behind the wheel, it's an absolute cracker. Our test location halfway between Matamata and Te Aroha meant we had a variety of terrain and conditions to challenge different features of the Defender Pro.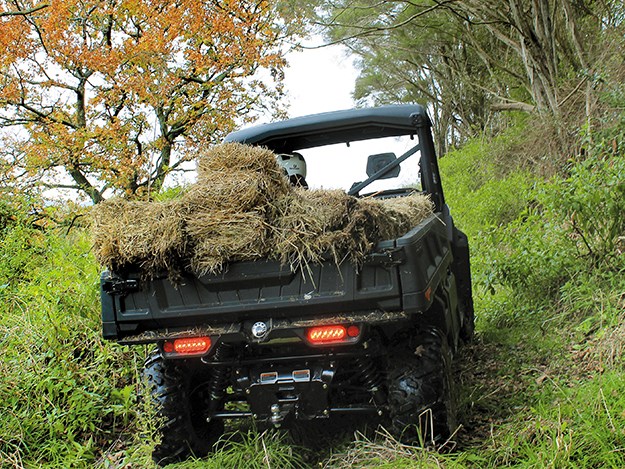 One area in which I thought it would struggle was over rough undulating terrain. With the long wheelbase, I was expecting to get hung up and bellied at every opportunity. To its credit, this only happened once (not that I didn't provide plenty of opportunity for this to happen), and when it did, I just backed out, picked a new line, and it was no issue.
Where the long wheelbase did shine was uphill and downhill. This machine climbs like a demon; wet, slippery hill climbs were no problem. With Maxxis Bighorn 2.0 tyres fitted as standard, they dug in and found plenty of traction and also cleared nicely in heavy mud situations. They also look pretty cool on 14-inch (35.6cm), black cast aluminium rims, providing strength without the weight.
Plenty of power is supplied to the wheels by way of the 976cc, 82hp (61kW), petrol Rotax engine. With only a handful of bales on the rear tray, I was only using about half of that power, but it's always good to have extra in reserve to get through challenging situations.
Next up came some testing in the sandpit on some uneven heaps left by recent digger work. This is where I thought we would be stuck and bellied in no time, but to my surprise, the Can-Am Defender Pro thrived, with the shocks keeping the
wheels on the ground, the Visco lock of the front axle providing drive to the front wheels as needed, and with four-wheel-drive engaged, there was no stopping the big beastie.
ENGINE
There are pretty much two types of people when it comes to riding bikes – those who want the supposed low-down torque and economy of diesel and those who like the more instant power provided by a petrol power plant. I fall into the latter category, so in that regard, the Rotax power plant ticks all the boxes for me. Not only is it pumping out 82hp from a twin-cylinder 976cc petrol engine but it also sounds pretty darn good.
Refinements have been made to the firewall to reduce engine noise, which is a plus. Also, on the Defender Pro models, the engine is quite a distance from the driver, mounted at the rear, with the large storage compartment in between further acting as buffer.
As far as ongoing costs, Can-Am has an impressive service interval, with initial service at 1,000km and subsequent services at 3,000km.
In terms of speed, with the full power key, this beast is capable of speeds over 100km/h (yes, I had to test that also and did it with a smile). For on-farm work,
I'd estimate an average speed of 10km/h, which would make services roll around every 300 hours.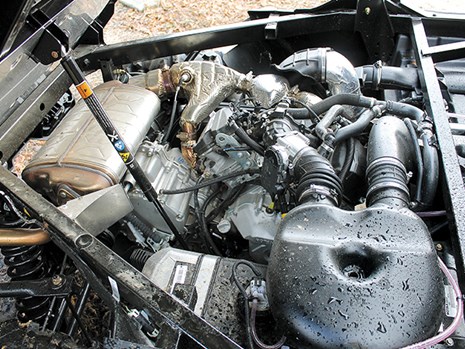 If that was the case, I would probably service a little sooner as preventative maintenance. It would be interesting to see what servicing would be required after clocking up 3,000 hours.
One thing that helps in the maintenance department is being able to hose the entire engine under the deck.
On this model, this presents no problems, so long as you stay away from the air inlet behind the driver's seat. With a gas strut, the deck can be released and lifted with one hand to check oil and radiator coolant, which probably takes less than one minute. The generous 40-litre fuel tank should be enough to get you through
even the biggest day's work.
TRANSMISSION
In terms of operation, it doesn't get much easier than the Can- Am Pro Torqtransmission.
The gear selector is located on the dash to the right of the driving position; at the top you're in Park, then down into Reverse, where it's gated to stop you going right
through in one hit. Then you have Neutral, High, and Low. I found while challenging the Defender Pro that Low was the range to be in, and the same when towing a trailer. For every day running around, it tickles along without breaking a sweat in High.
One issue of belt drive machines in the past was engine braking going downhill. The Can-Am does have engine braking, not enough to bring you to a stop, which is good, and if you require a little more braking, the four-wheel disc brakes are more than adequate to provide extra stopping power.
The array of accessories available for these machines is huge. One I found particularly handy is the hand brake, which can be fitted on the steering column. This acts on the disc brakes operated by the foot pedal, instead of locking the transmission on the gear lever.
OPERATION
An easily adjustable steering angle provides a comfortable driving position for different operators. The cabin provides seating (and seatbelts) for three adults (not two-and-a-half like many other machines).
Controls and functions are simple. On the almost flat floor, there are two pedals, the brake, and accelerator. A clear, backlit LCD dash displays all the information you would expect: speed, service intervals, temperature, clock, and gear. To get to different displays, there are two toggle switches on the left, which are
also easy to navigate through.
The dash has a single gear selector, with switches for twowheel- drive/four-wheel-drive and rear diff lock. The two-wheeldrive turf mode means the rear axle isn't locked, so you have slightly less turning effort. Being on the larger side of things, I tested the steering lock for a full circle, which came in around seven metres (approx.), which is probably to be expected given its almost three-metre wheelbase.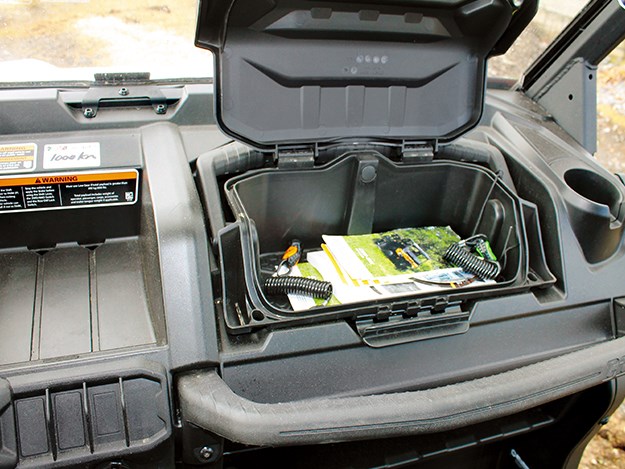 The Can-Am Defender Pro comes with DPS, which stands for Dynamic Power Steering. This is an electrical system that adjusts the level of assistance required, e.g. more at low speed, less as speed decreases. This system works well, and you
probably only fully realise the benefit of it when it isn't working.
This is both a safety feature and addition to the operator's comfort level.
Once underway, the independent, adjustable shock absorbers on each corner take care of the smooth and the rough going, and with almost 28cm of travel, you can traverse some pretty gnarly terrain. With the monster deck at the back capable of
carrying 454kg, being able to stiffen the rear spring load will come in handy.
While testing, we only had around 100kg of hay on the back, and honestly, it didn't seem like it made any difference to the machine. Anybody purchasing a Can-Am Defender Pro obviously has intentions to make the use of the huge deck. Dairy farmers will appreciate the bucket moulds to stop buckets sliding around. Add a crate and you can retrieve an extra few calves from the springers paddock as well.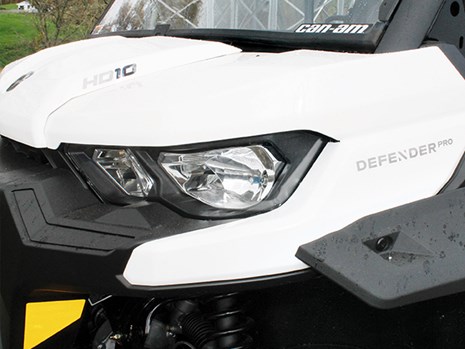 It could also be the ultimate fencing machine, with the ability to fit a six-foot post on the deck, with room for a heap of tool storage beneath, and a removable toolbox (or lunchbox) up front. For dry stock farmers, the ability to carry a decent load of hay or dogs to the back of the farm will come in handy. The ability to then turn the rear tray into a flat deck further increases its usability.
With turf mode in play, another potential use is landscaping and gardening work. That generous deck is large enough for a sprayer, as well as plenty of room for tools or a wheelbarrow.
These are just a few ideas. Add on some of the many accessories from the extensive Can-Am factory list and you can customise a bike to exactly suit your requirements.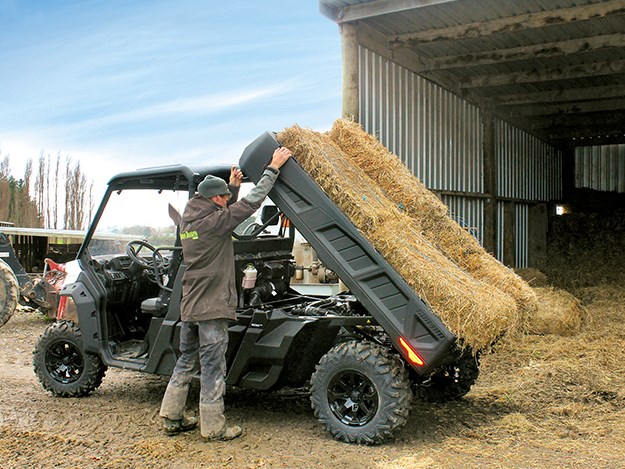 NV Motorcycles in Morrinsville has kitted this demo machine out with a polycarbonate front windscreen and extra mudguard flares on the front, which both probably added to the comfort level by preventing the operator from getting covered in mud or bugs.
One small gripe I had was the visibility when backing back up a narrow track with a load on. It was difficult to see what you were doing. A head out the side helps, but reversing mirrors and side by sides don't seem to go that well together.
When it comes to safety, the Can-Am Defender Pro ticks all the boxes. With seatbelts for three adults and speed and power restriction incorporated into the driver's controls, up to three proximity keys are available to govern performance. A roll-over cage comes as standard safety equipment, along with mesh doors, which fold up out of the way should you not require them. Half or full doors are available as an optional extra.
VERDICT
Being slightly different to your average side by side, the Can- Am Defender Pro stretches the limitations of the average side by side and is perhaps more closely comparable with a single cab 4x4 ute or small mini 4x4 truck like a Suzuki.
Although my testing was not completely exhaustive, it sure was fun! There are
so many uses for a machine like this, with such great storage capacity as well as the large deck space.
Fears of off-road ability were unfounded, and I found that hill-climbing ability is easily up there or better than almost all other side by sides I have tested. Sideways stability was no issue either while testing. What felt steep in the driver's seat was probably a fair way from unstable, thanks to the wide wheelbase.
Pros
Plenty of storage, under deck as well as within the cabin
Customisation with accessories to suit requirements
Long service intervals
Largest tray size available
Easy to clean
Smooth easy to shift transmission
Cons
Rear visibility when loaded/backing
Not really nimble in tight situations, although not as bad as I was expecting
Specifications
Engine Rotax HD10 V-Twin, liquidcooled, EFI
Power 976cc, 82hp/61kW
Fuel Petrol
Transmission PRO-TORQ trans, extra L/H/N/R/P
Power steering Dynamic Power Steering
(DPS)
4WD system 2x2/4x4 and rear locking diff; Front Visco-Lok auto locking front differential
Suspension Front – arched double A-arm 27.9cm travel; Rear – arched TTA with ext swaybar 27.9cm travel
Brakes Front – dual 220mm discs with hyd twin-piston calipers; Rear – dual
220mm discs with hydraulic single-piston calipers; Park brake-trans
Tyres Front – Maxxis Bighorn 2.0 27x9x14 inch (68.6x22.9x35.6cm); Rear –Maxxis Bighorn 2.0 27x11x14 inch (68.6x27.9x35.6cm) LxWxH 390cm x 163cm x 198cm
Wheelbase 294cm
Grnd clearance 33cm
Dry weight 726kg (estimated)
Cargo box 180.3cm L x 138.4cm W x 25.4cm H
Cargo box cap 454kg
Storage cap Total 356L, under deck 316.5L
Towing cap 1,134kg
Load cap 771kg
Fuel cap 40L
Subscribe to our newsletter
Sign up to receive the Trade Farm Machinery e-newsletter, digital magazine and other offers we choose to share with you straight to your inbox
You can also follow our updates by liking us on Facebook. 

Graders For Hire | Cranes For Hire | Telehandlers For Hire | Excavators For Hire