Deutz-Fahr 6 DT Series Review
---
With more farmers moving to higher input systems, the need for high horsepower in a nimble compact package is higher than ever before and the new four-cylinder 6 DT line from Deutz-Fahr does not fail to impress.
I was fortunate enough to grow up on a dairy farm in Taranaki on New Zealand's North Island.
Our small slice of 'Taradise' has been in the family for more than 140 years, so it's fair to say that it's a family affair.
When I was three years old, my Dad bought his first Deutz, an Agrotron 100, and growing up, it's what I learnt to drive.
I've many fond memories of that tractor and was sad to see it go.
I've since spent time driving John Deere, Claas, Case IH, and Fendt tractors, but there has always been something about Deutz-Fahr that gives me a sense of nostalgia; pretty uncommon at just 19 years of age.
So when I was given the opportunity to have a flagship 6140 TTV for a couple days, you could say that I was pretty excited.
The new 6 DT series from Deutz-Fahr is aimed at large-scale farmers and contractors and is offered in two models, the 6130 with 126hp (94kW) and the 6140 with 136hp (101kW).
Both share the 3.8-litre four-cylinder FARMotion engine and can be equipped with either a 30x30 or 60x60 powershift transmission or Deutz's continuously variable TTV transmission.
Mark Fouhy reviewed the former last year, and now I'm taking a look at the top spec TTV model with front suspension, 50km/h, and a self-levelling Trima loader.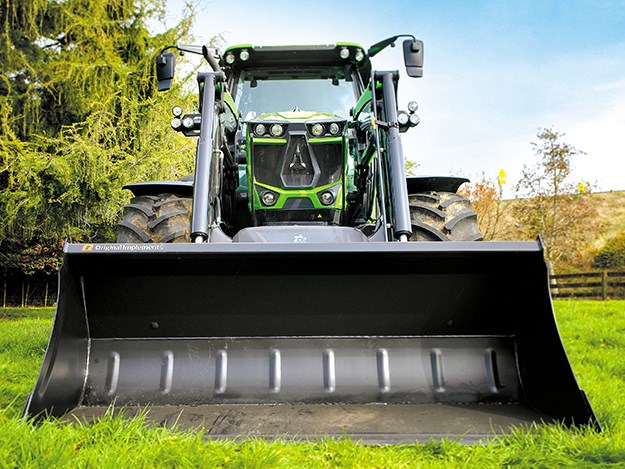 The loader package comes with Quicke's own bucket.
ENGINE
The FARMotion engine is what I found the most impressive part of the tractor. Deutz says it was designed specifically for agricultural use, with a focus on low noise and better performance, with lower fuel consumption and less vibration.
As soon as I hopped in, it was easy to see that their efforts had paid off. The engine was quiet and smooth from idle all the way up to 2,200rpm. The 6140 produces 136 peak horsepower and 544Nm of torque, all of which were used while towing a 7,500-litre effluent tank up and down the rolling hills of our farm.
The unit meets Tier4i requirements using a diesel oxidation c talyst and a cooled exhaust gas recirculation system, eliminating the need for AdBlue and diesel particulate filters.
The omission of AdBlue is great for a lot of farmers, as it means one less thing to worry about when filling up, and is quite handy when you're under the pump trying to get things done.
Deutz's claims on fuel efficiency were also apparent, averaging around 10–12 litres per hour applying effluent around the farm. You could quite easily expect a full day's work between filling up despite the relatively small 185-litre tank.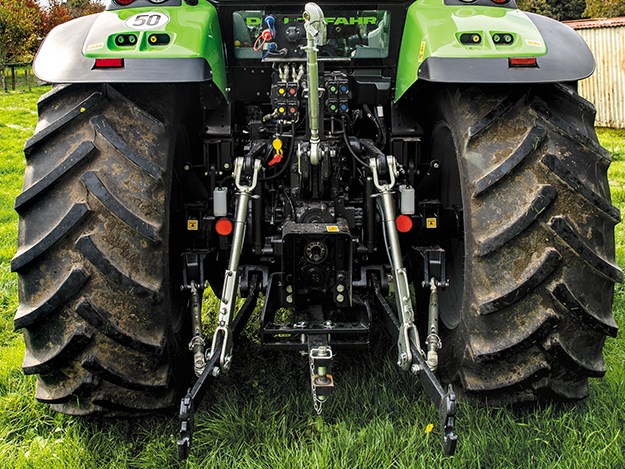 A well-laid-out backend makes switching implements easy.
TRANSMISSION
I'm a big fan of variable transmissions, especially when spending long days in the cab. Having the ability to just set the desired speed and push the pedal makes any job a breeze. Deutz's TTV transmission has been around for a while now, so they've had plenty of time to get it right.
All models can be spec'd as 50km/h units or 40km/h at lower rpm to save fuel. The tractor has four pre-set speeds: 5, 10, 20 and 50km/h, which can be changed to suit the task at hand. These act like ranges where the tractor won't exceed the set speed.
I found the unit responsive and quick to pull back on the ratios when towing uphill. With a full tank weighing about 12 tonnes, it also did well to prevent free-wheeling downhills, which was an issue with earlier variable transmissions.
However, the transmission really stood out when doing loaderwork. It was great to be able to drive up to a maize pit, fill the bucket, then just press a button on the joystick to engage reverse and drive back out all without the need to change gears or use the clutch. All tractors in the range are fitted with
Deutz's Stop&Go system where the clutch is disengaged when the brake pedal is pushed – quite a common feature on tractors in the class.
DESIGN/STYLING
I agree with fellow Farm Trader tester Mark Fouhy's review of the Deutz 6155G when he said the new range of Deutz-Fahr tractors are up there with the best-looking tractors on the market. 
The aggressive front end comes straight from their largest 6, 7, and 9 series tractors and creates a mean green machine. 
The unit also has a colour-matched Trima loader, which adds to the uniform green and black colourscheme. I think you'd struggle to find a smarter-looking package in its class.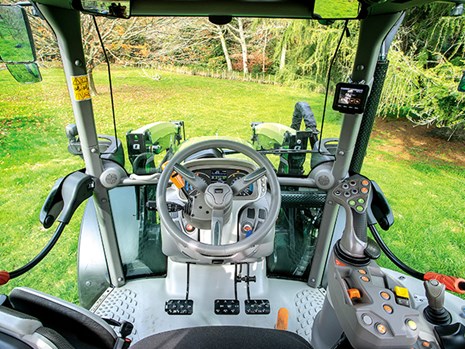 The cab has good all round visibility.
OPERATION
One of the first things I noticed when stepping into the Deutz was that the cab was on the smaller side. I'm definitely on the taller side of the scale at 6 foot 5, but I was still comfortable once I set things up.
Everything is well laid out, with many of the controls used on a day-to-day basis at hand on the joystick.
This joystick controls the transmission, power shuttle, and rear hitch, with four other buttons that can be mapped to almost anything else.
I ended up using them to control one of the rear spools and 4WD on/off. The joystick is hard-mounted to the seat so, unfortunately, you can't adjust the reach and position of the controls, so my leg sometimes ended up on a weird angle when using the throttle.
The rest of the controls, including power take-off (PTO), rear hitch adjustments, engine speed, and cruise control, were all close by and colour-coded to make things that little bit easier.
The six-pillar cab had plenty of visibility and the addition of a sunroof was handy for loader work too. It would be nice to have a seamless roof design as seen in some other tractor brands, but it was still nice to have the sunroof. The Trima Q4s loader also gives good visibility and looks smart with the green selflevelling arms.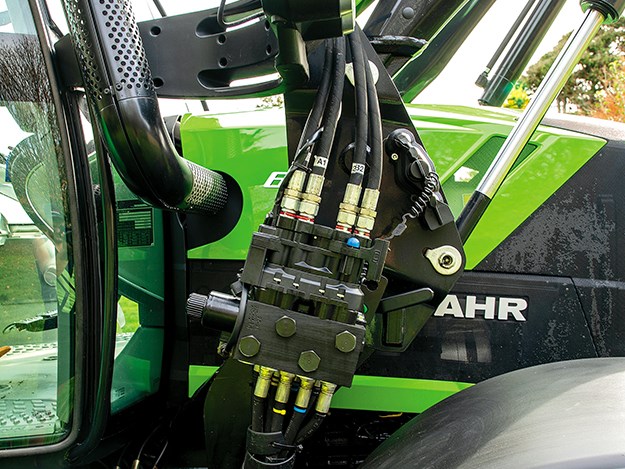 Quick release hoses on the loader tidies things up.
SUSPENSION/HYDRAULICS
All Australian models are fitted with four-point cab suspension and 50km/h models are also fitted with front suspension.
This, combined with the air-suspended seat, created a comfortable ride in all situations, despite the short wheelbase being a fourcylinder tractor.
TTV models are equipped with two electronic spool valves as well as the four-way electronic joystick just to the right-hand side of the main joystick. An electronic diverter is used to switch between the loader operation and the other two rear spools.
A 120-litre/min pump ensures that there's plenty of oil going where it needs to. The rear linkage has a max lift capacity of 7,000kg, which is plenty enough for most of the tasks you can throw at it.
All models are fitted with an electronic park brake next to the seat, which feels much more premium. Another feature that proved handy for loader work is the rapid steer system.
This speeds up the steering to two full turns lock-to-lock to make tight turns quick and easy.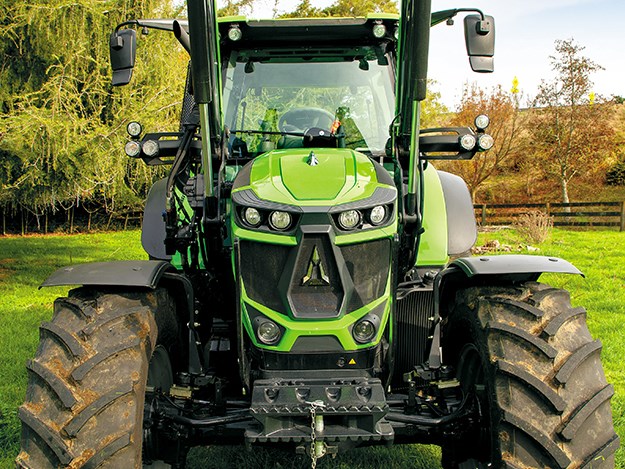 A great lighting package comes standard.
VERDICT
Deutz-Fahr has done a great job at creating a versatile, compact four-cylinder machine that suits a wide range of tasks for both farmers and contractors.
The comfort and ease of use that this machine offers are appealing and the tractors look great, too. The FARMotion engines are efficient and reliable and the TTV transmission completes what turns out is a very attractive package.
Specifications
Engine Four-cylinder, turbo intercooled, Tier 4i
CC rating 3849
Power 129hp@2,200rpm; 136hp@2,000rpm; ondemand single, two- and four-wheel drive.
Transmission Continuously variable 50km/h Shuttle Electro-hydraulic full
powershuttle.
Hydraulics 120L/min CCS pump, up to 5 SCVs
Suspension [front] Fully suspended front axle.
[cabin] Mechanical four point cab suspension.
Wheelbase 2,500mm.
Maximum total weight 9,000kg
Fuel capacity 185L
Linkage capacity 7,000kg (Cat 3)
Pros
Quiet and efficient engine – no AdBlue
Simple and versatile transmission
Full suspension set-up makes for a comfortable ride
Good visibility from the six-pillar cab
Great looking package
Hydraulic park brake


Cons
Cab is on the smaller side
Joystick position isn't adjustable
Subscribe to our newsletter
Sign up to receive the Trade Farm Machinery e-newsletter, digital magazine and other offers we choose to share with you straight to your inbox
You can also follow our updates by liking us on Facebook. 

Graders For Hire | Cranes For Hire | Telehandlers For Hire | Excavators For Hire