Polaris Ranger EV review
---
Often big change begins with something small. When it comes to the electrification of farm vehicles, the new Polaris Ranger EV provides a thoroughly useful, but reassuringly proven, glimpse into the future, says Farm Trader NZ's Cameron Officer.
While the notion of an electric farm vehicle might still be the stuff of science fiction for some, for Polaris, it's almost old hat.
Well, okay, not quite. The vehicle on these pages, after all, still signifies a rather revolutionary moment for your humble farm focused side by side.
"Polaris has been building electric ORV or side by side vehicles since 2010, and I think it's fair to say the company's concentrated efforts around product development over the last decade are paying dividends now," says Polaris national sales manager Nathan Moore.
"It's everything our customers have come to expect in a side by side from Polaris. But at the same time, it represents something entirely different. We're really looking forward to demonstrating it to the rural sectors around New Zealand."
SAME-SAME BUT DIFFERENT
At first glance, and aside from a couple of subtle decals along its flanks, the Ranger EV does indeed look like other models in the Ranger two-seater line-up.
There is little to tell the EV model from the models that use fossil fuel. The unit is a lead acid battery equipped vehicle. But then you start it up. And… nothing. No noise whatsoever. It's actually quite startling the first time you experience it. Electric vehicles are, by their very notion, quiet. But this is quiet even for an electric vehicle.
That super silent demeanour doesn't mean it's a slug in the performance stakes either. The multi-battery set-up under the split-tilt seats in the cab power the machine's single 48V high-efficiency AC Induction motor, mounted at the rear axle, to deliver the side by side drive.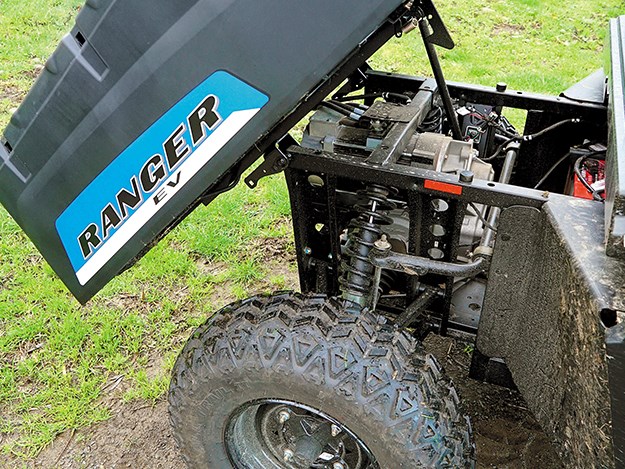 The 48V AC induction motor sits under the tip-tray at the rear and outputs the side by side.
The Ranger EV achieves a top speed of 40km/h in High range. And I do mean comfortably: with Macpherson struts up front and dual A-arm independent rear suspension at the back both delivering 22.9cm of travel, the vehicle feels sure-footed yet pliant over a variety of surfaces.
Test runs revealed a consistent ride quality across both paddocks and a race strewn with reasonable sized rock.
Retracing our steps on a traditional quad bike would be an entirely different experience – one that would no doubt be much more keenly felt in the muscles and joints at the end of a long day.
TOTAL CONTROL
Under the seat, beneath a handy removable tote-tray, sits eight batteries – four on each side. This set-up helps the side by side retain a reassuring lower centre of gravity, yet the battery packs sit high enough to ensure crossing fords and other shallow watercourses on the farm can be executed without any concern (floorboards are the transverse max depth for such activities). On the dashboard, three toggle switches essentially act as the control centre for the Ranger EV.
The first toggle gives the driver forward, neutral, and reverse gears through the Direct Drive system, while the central toggle allows for a choice of onewheel drive (or Turf Mode) for the smooth stuff, Two-Wheel Drive or full All-Wheel Drive.
The last toggle controls travel speed through Low, Medium, and High settings. The clever thing about the system here is, if the vehicle is travelling up an incline at Medium travel speed with a fair old load onboard, flicking down to Low will increase available torque from the motor, with a noticeable boost to speed despite
the load.
Conversely, head down a hill and flick the travel speed into Low (also features in Medium or High) and the system brakes itself, regenerating energy flow back to the battery and providing for one-pedal control. It's the same principle as used in an electric passenger car.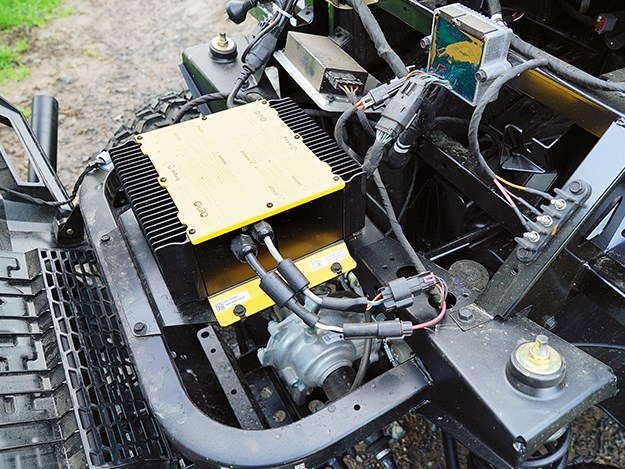 All you need to charge the Ranger EV is a conventional domestic power outlet in which to plug into.
The impressive thing, however, was just how sure-footed the Ranger EV proved, even in Turf Mode. By way of demonstration, Moore set off up the race (which featured a moderate to steep incline) with two onboard. His hand didn't even reach for the Drive selector switch, remaining in Turf Mode for the entire ascent.
It was only when venturing into undulating boggy paddocks did he apply drive to both axles.
The reality is that we're not marketing the electric version of the Ranger two-seater for heavy-duty farm use," says Moore.
"Polaris' comprehensive Ranger line-up are all fitted with ROPS One of the first questions anyone looking at an EV asks is, how long will the batteries last before a
recharge is required? for core agricultural duties. These models remain the best tools for that kind of application.
But the Ranger EV will certainly appeal to those with small holdings, as a support unit for the larger operations, or where the machine has to operate at closer proximity to livestock such as on goat or poultry farms, where mitigating engine noise and emissions are a consideration.
"But because the underlying architecture of the machine remains very much blueprinted across from Polaris' other models and because we can get so much torque out of the motor thanks to its battery drive, this remains a very capable
machine that will provide the perfect small scale farm tool for a variety of owners."
The three central toggle switches act as the driver's control centre for the Ranger EV.
RANGE FINDER
One of the first questions anyone looking at an EV asks is, how long will the batteries last before a recharge is required? And pretty soon you realise that there are two aspects to the answer: it all depends on how you use the vehicle, and how
often you charge it becomes a moot point if you change your
daily routine to suit.
"Using the Ranger EV in its Medium travel speed setting and travelling mainly over hard-packed flat terrain, the EV will give you approximately 80km of battery range," explains Moore. "But in reality, there are so many other parameters to consider. Many of our customers live in hillier country, many need their machines to cover rougher uneven terrain and, of course, most will be hauling stuff in the rugged tip-tray at the back, all of which means two different owners will likely experience two different average distance totals over the course of a working week."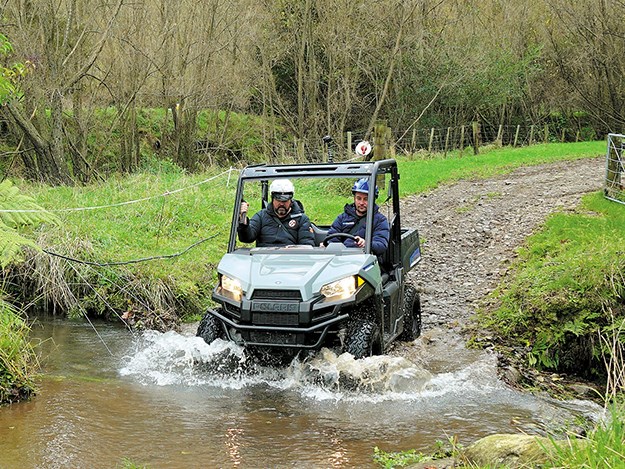 The Polaris Ranger EV remains a thoroughly capable side by side.
With ease-of-use clearly a strong mandate in the design of the Ranger EV, charging the batteries is easy. Looking inside the glovebox will reveal nothing more technologically daunting than a three-pin plug. That's right, like the one attached to your electric kettle.
Six to eight hours (essentially an overnight charge) connected to a conventional power outlet will revive the batteries from dead flat to full. But as part of an end-of-day routine, parking up and plugging in would no doubt quickly become as normal a part of ownership as giving the tyres a quick kick at the start
of each day.
Additionally, auxiliary battery kits are available from Polaris if the owner wishes to affix a winch to the front of the Ranger EV or attach a lightbar, meaning such accessories aren't drawing from the same source as the motor.
USEFUL ANYWHERE
Steve Workman from Polaris dealer Te Aroha Tractors is also impressed with the interest the EV has garnered, and from the variety of sectors it will appeal to.
"There are so many potential customers for the EV, both in and beyond the rural sector," he says. "We see it as a versatile tool for horticulture operations, golf clubs, luxury accommodation providers, government entities such as the Department of Conservation and local councils, as well as agricultural customers
where livestock live at closer quarters and there are greater considerations around protecting them from excessive noise or exhaust fumes.
The other consideration that puts the electric side by side at the top of the list for many are the much lower maintenance costs. Aside from the batteries and, eventually, the tyres, there is little in the way of mechanicals that will need
continual attention," says Workman. "The unit still requires servicing at 50 hours for first service and every 100 after that."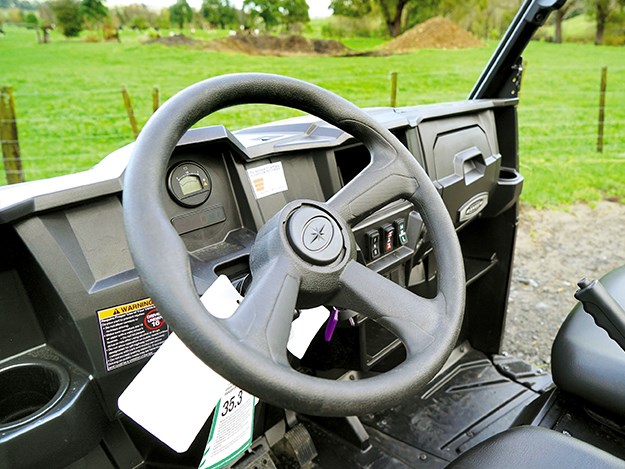 Conventional steering and control systems make the Ranger EV simple to operate.
VERDICT
Polaris has become a byword for terrain-tackling side by sides of various shapes and sizes. The rugged and dependable brand seems to be going from strength-to-strength, and by presenting the Ranger EV – a model that mixes the expected with the cuttingedge – Polaris' local audience has the opportunity to futureproof a
small but vital and practical aspect of their operation.
Specifications
Motor Single 48V high efficiency
AC Induction
Power 30hp/22kW
Transmission Automatic PVT
Drive system On-Demand single, two and four-wheel drive
Ground clearance 254mm
Payload cap 453kg
Towing cap 680kg
Rear tray cap 226.8kg
Pros
Zero fuel requirement means lower running costs
Emissions free running will suit many applications
Powerful and capable over a variety of terrain
680kg tow rating impressive
Intuitive and simple to drive
Cons
'Range anxiety' will still be a barrier to entry for some
Subscribe to our newsletter
Sign up to receive the Trade Farm Machinery e-newsletter, digital magazine and other offers we choose to share with you straight to your inbox
You can also follow our updates by liking us on Facebook. 

Graders For Hire | Cranes For Hire | Telehandlers For Hire | Excavators For Hire